Showstoppers is a four hour feature length show. Doors open at 5pm and show starts sharp at 6.20pm. The show features full feature length live performances from all the stars performing all their big hits and blockbusters exclusively for one night only. Bollywood Showstoppers is a complete package bringing you world class entertainment live at The O2 Arena London. The show is 30 days away and tickets are selling at rapid speed, don't miss out the biggest Bollywood show of the year, book your tickets now.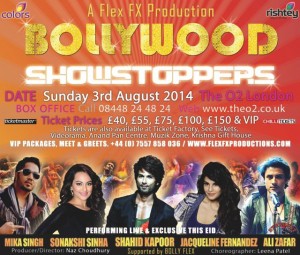 Mika Singh all set to rock the stage at Showstoppers
The power house entertainer will be performing a full feature length live set in Showstoppers and will be performing two 40 minute performances in the first half and second half of the show. He will be singing all his super hits such as the recent blockbuster 'Jumme Ki Raat' from Salman Khan's Kick to his hugely popular soundtracks such as 'Subha Hone Na De', 'Dhinka Chika', 'Dama Damm Mast Kalandar'. He has created some of the most played Bollywood songs created in the Hindi Film Industry and also will be bringing loads of surprises. Expect the audience go crazy when he thumps out his super hit 'Sawan Mein Lag Gayi Aag'.
Mika recently last week did his press conference in the UK with Flex FX to promote the show and meet the media to give everyone an insight about what is to come. Mika said, "Performing at The O2 is a dream come true and I'm soo excited to perform with such a great cast". Check out his Bollywood Showstoppers Promo:
Showstopper Shahid Kapoor creating history in the making
Pound for pound, Shahid is one of the best dancers in Bollywood expect some breathtaking dance numbers from the phenomenal stage performer. He will be performing many of his super hit iconic dance numbers in the show including 'Mauja Hi Mauja', 'Nagara Baga', 'One More Dance', 'Humse Pyar Kar Le Tu' and many more alongside his latest blockbusters from Phata Poster Nikla Hero and R Rajkumar. Expect some surprises from the Showstoppers with a world exclusive from his latest film to be released Haider. Shahid will be closing both half's of the show with 2 scontract performances taking you from the eastern routes and western style of Bollywood. Shahid Kapoor becomes the first Indian Bollywood actor to perform live at The O2 arena.
The humble Shahid said in an interview for Showstoppers, "I don't believe in having fans, I am lucky enough to have people who love me and support what I do, It's great to meet my fan's in the UK and when I take the stage at The O2 I will take in all their energy and give them a show they will remember for years to come". Check out Shahid's party promo for Showstoppers:
Sonakshi Sinha all set to make her debut to the UK
She comes to perform live to the UK for the first time and brings 2 contrasting performances, expect a very gracful sufi style dance performance with her elegance and dancing to songs like 'Tere Mast Mast Do Nain' and 'Dagabaaz Re' from the super hit movie Dabanng to her performing her comical dance numbers like 'Chin Ta Ta Chita Chita' and 'Dhadang Dhang' from Rowdy Rathore and giving you an encore with with her recent dance number 'Blame The Night' from from the super hit Holiday. She will be performing range of dance numbers; Sonakshi isn't the type of performer to hold back. Expect 2 powerful fun packed performances that will keep you on the edge of your seats as she takes the stage for her debut on the most poplar arena in the world.
Sonaskhi said, "I am really looking forward to finally perform in Bollywood Showstoppers with the best dancers in the UK and seeing all my fans and the response they will give me, it will be an amazing night". Check out her video message:
Jacqueline Fernandez is bringing sexy back to the O2
The newly crowned item queen will be performing all her sexy numbers such as 'Lat Lat Gayee' and 'Party On My Mind' from the super hit Race 2 and will be going back in time with dance numbers such as 'Aapka Kya Hoga Janabe Ali' from Houseful. Look out for her 'Jadoo Ki Jhappi'. This showstopper will leave you in awe with her dance selection. She is currently working on Salman Khan's Kick which is also set to release this Eid, she will be one to look out for.
Jacqueline said "This is a great show concept, and a really exciting time for me as I will be coming straight from premiering Kick to perform in Showstoppers at The O2 Arena, don't miss it UK". Jacqueline taking some time out behind the scenes shooting Kick to give her fans a special message:
Ali Zafar will take performance versatility into a new dimension
The multi-talented Ali will be singing and dancing at the O2, he will be singing live with his band as well as performing his big dance numbers such as 'Madhubala' from Mere Brother Ki Dulhan. The soulful rockstar will be taking you through a journey of his music from singing songs like 'Dastan-E-Ishq' to rocking the stage with his famous hit 'Channo Ki Aankh'. The all-dancing-all-singing artist will be full of surprises, watch out for his special tributes.
Ali Zafar said at the Showstoppers Press Conference, "I can't wait to take on The O2 stage, It's been so many years since I have performed in the UK and I am proud to be a part of such a unique show". Check out Ali Zafar's Exclusive Interview with BollySpice.
Bolly Flex will burn the floor at the O2
The spectacular dance group will be performing the opening act in the show with special 15 minute high energy act with all the current at latest hits with songs such as '1234 Get on the Dance Floor' from the hugely popular Chennai Express to recent supper hits like 'Palat Main Tera Hero' and 'Balam Pichkari'. Expect a blistering high energy variety act from the athletic troupe led by dance sensation Leena Patel and the Pioneer himself Naz Choudhury. Bolly Flex will be performing through the event supporting all the stars and performing with them to give each act a new dimension.
Choreographer Leena said, "The team has been working really hard over the past few months and the show is coming together, all the dancers are training like athletes, we will put everything into this show. This show is a complete package, we can't wait''. Check out Bolly Flex behind the scenes:
Bollywood Showstoppers is 1 month away and tickets cost between £40 – £150 and are selling very fast. You can book yours now from the official box offices.
The O2: http://www.theo2.co.uk/events/detail/bollywood-showstoppers
Ticketmaster: http://www.ticketmaster.co.uk/Bollywood-Showstoppers-tickets/artist/1812038
Chillitickets: http://www.chillitickets.com/28071-bollywood-showstoppers
For VIP Packages, Corporate & Group Bookings and Meet & Greets with the stars contact us on +44 (0) 7557 858 036 or +44 (0) 7557 858 385. For more information visit www.flexfxproductions.com
The most anticipated Bollywood show of the year is almost here. The showstoppers are a month away from performing in the exclusive show at the worlds most popular arena!