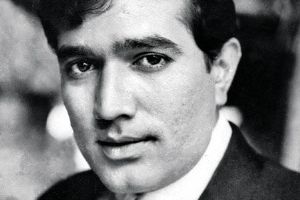 There are a number of figures from the Bollywood film industry who have been bestowed with a prestigious Padma honour, which acknowledges particular civilians of India who have made a substantial contribution towards society. Legendary actors Rajesh Khanna and Sharmila Tagore have been awarded the Padma Bhushan, which is the third highest civilian honour in India. Rajesh Khanna, considered by many as India's first ever superstar, sadly passed away on July 2012 and is being given the award posthumously. Sharmila Tagore made her debut in Satyajit Ray's Apur Sansar (1959) and went to become a much loved star of the 1960s and 70s. Both Khanna and Tagore made a popular on-screen pairing, with Aradhana (1969) being their most memorable film together.
Sridevi, a star of the 1980s and 90s and who recently made a successful comeback in Gauri Shinde's English Vinglish (2012), is being presented with the Padma Shri. She may not have won the Filmfare Best Actress Award last week, but surely Sridevi is feeling content with the fact that she is being presented with the fourth highest civilian honour in India. In a statement to the Indian press, Sridevi had the following to say regarding the award: "I am honoured and humbled by this recognition. Would like to thank my fans for the love and faith they have always given me."
In addition, both Ramesh Sippy and Nana Patekar will be awarded the Padma Shri for their work and contributions. Ramesh Sippy is famous for directing the masala epic Sholay (1975), whereas Nana Patekar is a critically-acclaimed actor who has starred in films such as the Oscar nominated Salaam Bombay (1988).
Bollyspice would like to congratulate all the awardees, who thoroughly deserve it for their efforts over the past few decades!