Captain America: Civil War is all set to be the biggest superhero action extravaganza of the year, and the studio and Varun Dhawan have collaborated for the Hindi language version. For this year's most-anticipated and eagerly awaited superhero film, the studio has got on board versatile actor and youth icon Varun Dhawan to lend his voice for Steve Rogers AKA Cap Am in the Hindi version of the colossal superhero action flick.
Captain America: Civil War is the year's most-anticipated and eagerly awaited superhero film. Hindi audience for Marvel's movies has been growing rapidly over the years.
Well the movie will showcase an epic superhero battle between Captain America and Ironman, with superheroes each taking a side to fight!! With Varun Dhawan being the voice of Captain America, he's clearly on TeamCap! Here's who we think would be TeamCap and TeamIronman from Bollywood!!
TEAM CAPTAIN AMERICA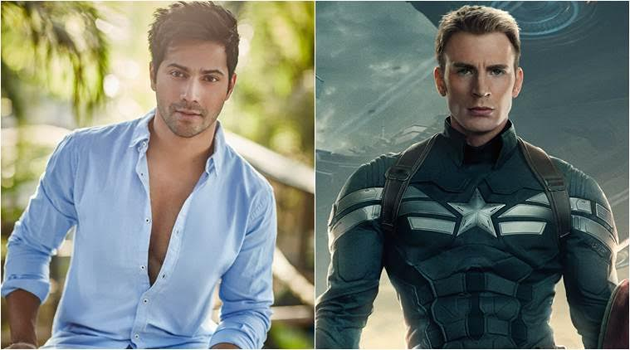 CAPTAIN AMERICA: VARUN DHAWAN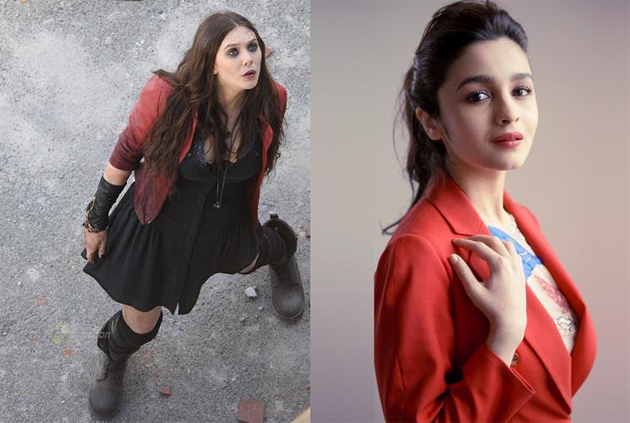 SCARLETT WITCH: ALIA BHATT
She isn't 100% loyal to neither Tony nor Captain. So she may side with anyone but Tony made weapons that had killed her parents so chances are that she may side with Captain. and we all know the close friendship between Alia and Varun, so Alia Bhatt is the perfect choice here!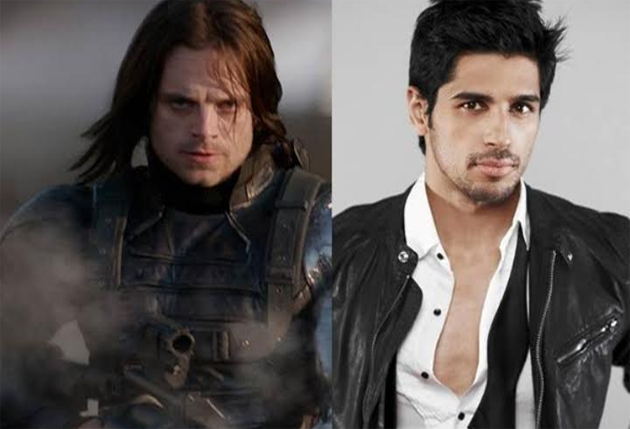 THE WINTER SOLDIER: SIDDHARTH MALHOTRA
We come to know at the end of second Captain America movie that Sebastian Stan's Winter Soldier remembers that he was once Bucky Barnes who was Captain America's best friend. In Ant Man it is revealed that the Winter Soldier has been found. The presence of Bucky on Captain America's team creates sharp negative feelings from Iron Man's team.
Siddharth shared a fun but frictional friendship with Varun Dhawan in Student of The Year. so the two friends can reunite again as superheroes!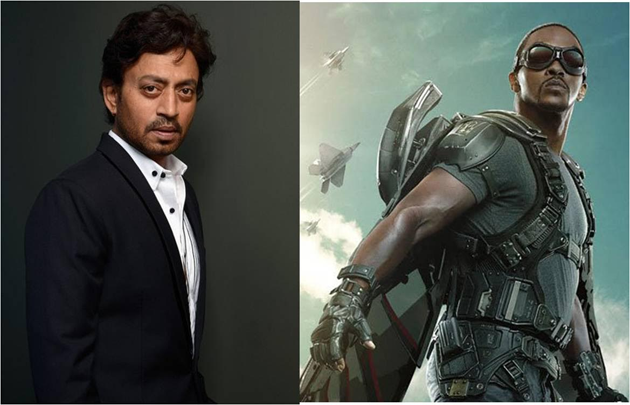 FALCON: IRRFAN KHAN
In the film, Captain America: The Winter Soldier, Anthony Mackie's Sam Wilson was shown to form a friendship and also a partnership with Captain even before he became Falcon and a member of Avengers in the Age of Ultron. Falcon will soar high with 'Redwing' which will be seen as a drone in this movie instead of the actual falcon. He will naturally side with Captain America. Known to be extremely intelligent, we feel Irrfan Khan is most suited for this superhero, and the international actor is already used to doing voiceovers for Hollywood films!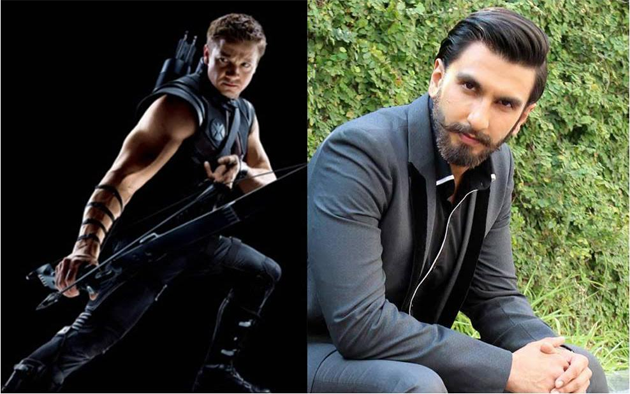 HAWKEYE: RANVEER SINGH
Jeremy Renner's Clint Barton was shown retiring from action but he answers call to Captain America and sides with him, but he goes against Black Widow his closest friend. to expected the unexpected, who else but Ranveer Singh who would look quite dashing with a bow and arrow (Given his last Bajirao avatar).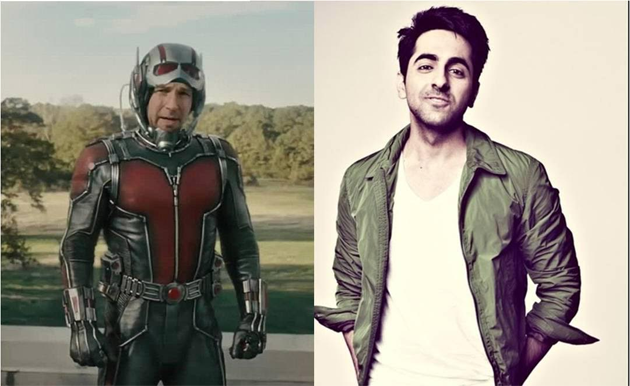 ANT-MAN: AYUSHMAN KHURANA
Falcon happens to know a guy who isn't a part of Avengers and can help Captain. Barely after a year of debut in MCU, Ant-Man will be played in this film by Paul Rudd. An affable, likeable and funny superhero, we feel Ayushman Khurana seems to the best choice for the pint sized but strong superhero!!
TEAM IRONMAN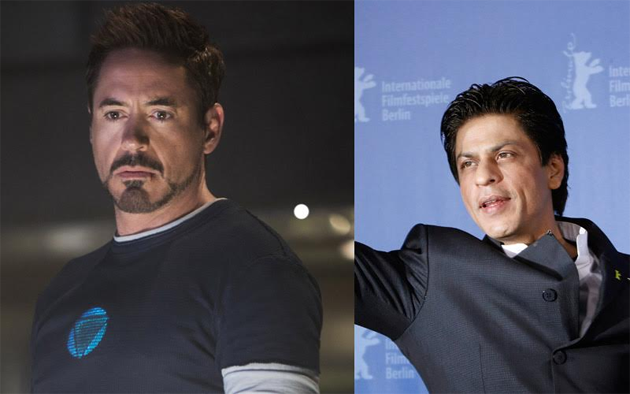 IRON MAN: SHAH RUKH KHAN
Iron Man/Tony Stark is played by Robert Downey Jr. for the 6th time in Captain America: The Civil War. According to the trailers, Iron Man feels betrayed by Captain America's actions. The Government wants to take control over the major decisions of the Avengers and Iron Man is willing to allow that. There's likely to be a fight between Captain America and Iron Man in this movie and they won't be backing out from this fight.
Tony Stark is cool, witty, charming and and yet grounded (considering he doesn't have any superpower per se…), qualities you will also find in wittiest Khan of the industry! Also Shah Rukh Khan and Robert Downey Jr are nearly the same age, so even that matches as well!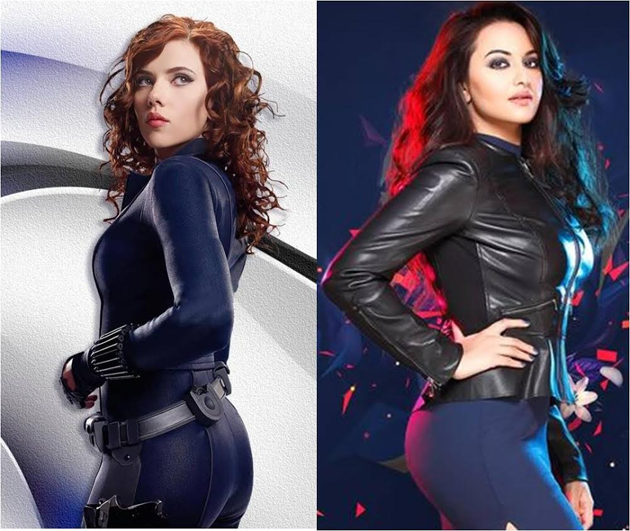 THE BLACK WIDOW: SONAKSHI SINHA
Scarlett Johansson has been seen in both Captain America and Iron Man movies and she has always been more close to Captain than Tony. However it surprises everyone that she sides with Iron Man in Civil war. But have her loyalties been distinct before? We will see her caught up and conflicting with her actions.
The gorgeous Sonakshi Sinha has often showed her love for Iron Man through her social media handles, wearing the masks as well. Since shes clearly an Ironman fan, this is the best superhero avatar for her!!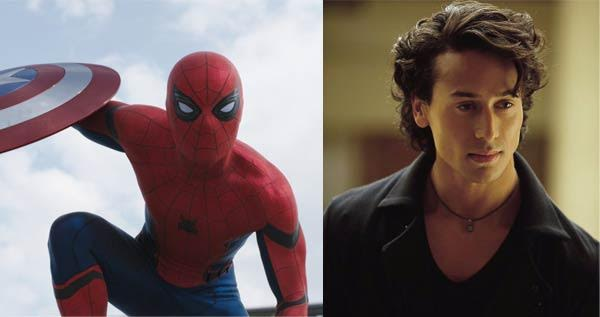 SPIDER-MAN: TIGER SHROFF
For the very first time Spider-Man will be shown joining the other Marvel Heroes on the screen. His part will also be more than it was actually visualized. Tom Holland's Peter Parker may or may not appreciate Tony's nickname for his alter-ego but we will see what happens.
Tiger Shroff's flexibility and his huge fan following amongst the young ones makes him a perfect spidey!
The most epic superhero battle is all set to unleash in theaters on 6th May as Captain America: Civil War is upon us! New recruits such as Spider-Man (Tom Holland) and Black Panther (Chadwick Boseman) join the familiar faces of Chris Evans as the Cap and Robert Downey Jr as Iron Man. Marvel's "Captain America: Civil War" stars Chris Evans, Robert Downey Jr., Scarlett Johansson, Sebastian Stan, Anthony Mackie, Don Cheadle, Jeremy Renner, Chadwick Boseman, Paul Bettany, Elizabeth Olsen, Paul Rudd, Emily VanCamp, Frank Grillo and Martin Freeman, with William Hurt and Daniel Brühl.