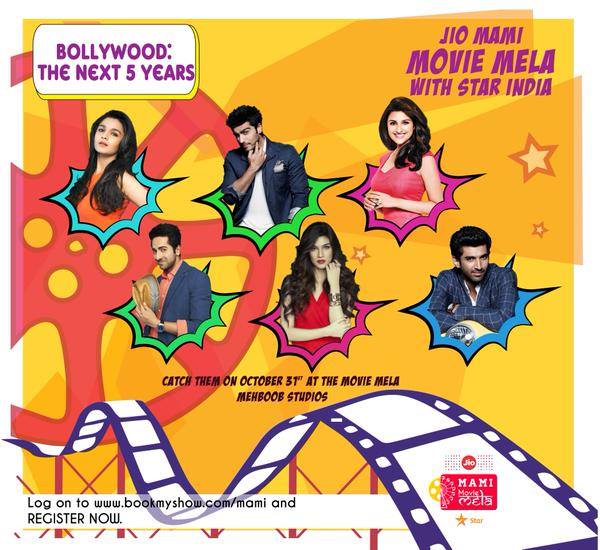 This year, the Jio MAMI 17th Mumbai Film Festival With Star India introduces the Movie Mela – a one-day celebration of cinema. On Saturday, October 31st, when delegates of the festival walk into Mehboob Studio, they will enter a different world – a world of movie characters, movie merchandising and above all, movie conversations.
Bollywood has long been infamous for rivalries and catfights between actors but does that still hold true? In a special discussion titled 'Bollywood: The Next Five Years' leading next gen actors – Alia Bhatt, Parineeti Chopra, Kriti Sanon, Aditya Roy Kapur, Ayushmann Khurrana and Arjun Kapoor will come together in a discussion moderated by Anupama Chopra and Rajeev Masand that explores how the landscape of Bollywood is evolving, what has changed and what has not and throw some light on the changing paradigms that are defining the future of the industry.
The Jio MAMI Movie Mela With Star India is a platform for movie fans to connect with the films, actors and filmmakers they love. The one-day event, which is open to all delegates of the Jio MAMI 17th Mumbai Film Festival with Star India, is choc-a-bloc with filmy sessions and activities.
The Jio MAMI 17th Mumbai Film Festival with Star India will be held in Mumbai from October 29th to November 5th 2015. The film screenings will take place at PVR Juhu, PVR Citi Mall, Andheri, PVR LP, Phoenix Mills, PVR Ghatkopar and Regal-Colaba. To attend the festival, viewers can register online at http://in.bookmyshow.com/mami/ or visit registration counters at the festival venues listed above.
ABOUT JIO MAMI
Mumbai – the financial capital of India is also the epicentre of the Indian film industry. The city plays such a major role in production and dissemination of Indian films and television programmes that it is widely known by its acronym 'Bollywood'. In 1997, a group of film industry stalwarts headed by late Hrishikesh Mukherjee founded the Mumbai Academy of Moving Image (MAMI) as a not-for-profit Trust. Their main objective was to organise an annual International Film Festival which the film industry and the country could be proud of. MAMI has been organising the festival for the last 16 years and aims to foster a climate of good cinema. MAMI engages people from all walks of life across the city and country who enjoy and love good cinema. It is Mumbai's only film festival that is entirely created and run by film professionals and a group of members from corporate India. Appreciation of good cinema, stripped off all the limiting labels of art and commercial, can only come about through exposure to the best of films the world has to offer. The Festival is the first step in that direction.
In their Mission Statement in 1997, the MAMI Board of Trustees said, "We feel it is the need of the hour to disseminate and inculcate good cinema among Indian audiences. The only way to achieve this is to celebrate cinema by hosting an International Film Festival in Mumbai, India 's film and entertainment capital. MAMI (Mumbai Academy of Moving Image) is committed to start Mumbai's first independent international film festival organized by practicing film makers."
For more information on MAMI and the upcoming 17th Jio MAMI Mumbai Film Festival scheduled to be held from 29th October- 5th November 2015, do visit our MAMI Website, Twitter handle, Facebook Page, Instagram and YouTube as follows:
Website: www.mumbaifilmfestival.com #MAMI2015 
Twitter:/mumbaifilmfest
Facebook: /mumbaifilmfestival Instagram: /mumbaifilmfestival YouTube: Mumbai Film Festival