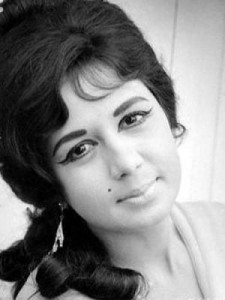 Bollywood legend Nanda had died at the age of 75. According to family members, the veteran actress died of a massive heart attack at her residence in Mumbai on Tuesday morning. Born in 1939, Nanda was a major star during the 1960s and 70s and is famous for films such as Aanchal (1960), Hum Dono (1961), Jab Jab Phool Khile (1965), Gumnaam (1965) and Ittefaq (1969). She played both lead and supporting roles and went on to play senior characters during the 1980s with films such as Ahista Ahista (1981) and Prem Rog (1982). She retired from acting after having completed her work in Prem Rog where she played the mother of lead actress Padmini Kolhapure. According to Nanda's family members, her death came as a "shock as she did not have a history of illness."
Nanda's last rites were performed at a crematorium in Oshiwara on Wednesday. Bollywood stars and friends paid tribute to her after hearing of her sad demise. Here is what some of them had to say.
Shashi Kapoor – "She was my first leading lady in Char Diwari (1961) always ready to help newcomers. The way she lip synced 'Yeh Samaa'… in Jab Jab Phool Khile (1965) was fabulous."
Rishi Kapoor – "It's shocking to hear about Nandaji's demise. She did a great favour to my father by working with him in Prem Rog. She had quit films, but when my father said he wanted to cast her in the film, she said yes at the first instance. I had a couple of scenes with her in the film and she was an absolute delight to work with. I also remember that she made a very good on-screen pair with my chachu (uncle) Shashi Kapoor. Though she acted in a lot of movies, she didn't have a very glamorous or outlandish image and she performed her characters with class and elan.
Shabana Azmi – I grew up watching her films. I was very happy to see the gang of girls – Nanda, Helen, Waheeda Rehman, Asha Parekh and others – when they came to see my play. Even though they are such senior actors, they didn't seek special treatment and met me backstage too. I was very touched by their gesture and also impressed with their spirit, togetherness, the way they embraced life without any angst and enjoyed it to the fullest without surrendering to their loneliness. It's a deep loss, not only to the industry but to all of us, personally.
Saira Banu – "I have been close to Nanda since 1985. She was very sweet and a wonderful actress. I admired her work in films like Chhoti Behen. She was traditional and had a lot of respect for elders. I wanted to send her an outfit for her birthday (January 8), but the tailor was unwell. I managed to get it delivered only last Saturday. Nanda sounded ecstatic when she called to say she liked it. So, to hear about her sudden demise is shocking. She used to come home to visit us, we'll miss her a lot. May God rest her soul in peace."
Salim Khan – "Nandaji was one of the finest human beings I have ever met in the industry. She was always a sweet, nice and caring person. I don't remember her being part of any controversy. She was always very professional and correct in her approach. Helen (his wife) shared a warm rapport with Nandaji. It's a great loss to the entire film industry."
Manoj Kumar – "When I first worked with her, she was an established star and I was a struggler. I had apprehensions about it and thought she might have starry tantrums. The very first day I saw her, she was sympathetic and that gave me the faith that everybody in the industry is good. She made my struggle easy in Bollywood."