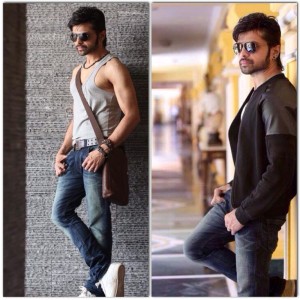 Multi-talented Himesh Reshammiya has just announced his next film as an actor, which is to be titled 'Heeriye'. The film will be a joint production from Essel Vision and Himesh's own company HR Musik.
The film will also mark the directorial debut of former film critic, Vishal Mishra. Ever since the team announced the film, many Bollywood celebrities took to social media to congratulate both Himesh and Vishal.
Director Sajid Khan congratulated the duo on Twitter by tweeting "Goodluck to my friends himesh n vishal…" Other celebrities that tweeted include Arjun Kapoor, Priyanka Chopra, Riteish Deshmukh, Jackky Bagnani, Taaha Shah. The praise did not stop there. Director Vishal S Mahadkar also congratulated the duo along with producers Shabinaa Khan and Vashu Bagnani.
Joining the league of well-wishers were RJ Anuraag Pandey, film-critics Rahul Desai, Komal Nahta, Bloomberg entertainment editor Parag Chhapekar, and many others. Many leading trade distributors and exhibitors, like Sunny Khanna, Prashant Solanki and Akshaye Rathi also greeted the Heeriye team.
It's a well known fact that Himesh is the only Music Director, Singer, Actor and Producer who has huge fan following, and many of his online fanclubs, went beserk with excitement upon the announcement of Heeriye. I spoke to some very loyal fans of Himesh who shared with me their excitement about their idols new look in his forthcoming film.
Dhaivat Raval, Ahmedabad India (owner of the fanclub @HimeshFans) said "I am really excited about Himesh Ji's new movie Heeriye .. 1st look is just fantastic .. HR looks too cool and young .. Heeriye title is also good, its a unique love story woven in the current social scenario. So far 2 movies r announced of Himesh Ji for next year, in Guns N Roses Himesh Ji plays a gangster and Heeriye is a love story, so it will be great fun to watch Himesh Ji once again on big screen .. As a fan I'm always with him waiting for more movies, music, songs from HR side … Jai Matadi"
Ankita Ghosh, Kolkata, India "Himesh bhaiya, is looking very handsome in his new look for Heeriye. I wish him all the best for his film!"
Arjun KR, Karnataka, India (owner of @Himeshfanclub) said, "Himesh ji again proved that he puts so much effort in is work. Previously, he shed so much weight for Xposé and now for Heeriye he has become very much fit! Totally loving this new look. I think people will love it too! The title "Heeriye" is so youthful will become popular among Gen Y for sure! All the best for the movie HR."
Manas Dash, Odisha, India said "Heeriye, the title itself is so romantic and I cant just wait for the music of this movie… Himesh ji's new look is inspiringly awesome."
Akshay Bodkhe, Aurangabad India, (Admin of @HimeshFans) "What a man you are HR !! You first lost 20kgs for The Xposé , then you made 6 pack abs for thriller and now you are looking super cool and the youngest in Heeriye! No one can say this is Himesh Reshammiya of Pyar Kia Toh Darna Kya time!! Hats off! Heeriye will be an epic romantic film, no doubt about music: HR rocks!! This man is seriously an institution!! Love u HR!"
Mohammad Aiyaz, New Jersey, USA "Himesh Reshammiya has a knack for surprising his fans as well as his critics. The best thing about him is that he has something phenomenal to offer every time he makes an announcement. You just cannot write him off, ever. The title of his new film, "Heeriye" sounds classic and beautiful. I love the rustic feel it gives. I am sure that there will be an all time chartbuster romantic song around that title. As for the looks, I think this is his best yet! Factually, since Aap Kaa Suroor, which was his first film as an actor, he has donned different look for each one of his films, and one can expect that it would be no different for "Heeriye", but what got me was the way he carried-off this particular look this time. Very excited I wish him, all the very best and I know he is going to rock us all for one more time. Again."
Shalu Mahee, Delhi, India, "Style is a way to say who you are without having to speak. Himeshji your new look makes me very happy and that is why sadness remains away from me"
Animesh Jha, Nagpur, India "Himesh Reshammiya's hard work and dedication is a inspiration for many. After the success of the xpose he is back again with a very different project. 2016 will completely belong to him."
One can clearly feel the immense excitement from Himeshji's fans after reading the wonderful quotes above! We are certainly looking forward to Himeshji's forthcoming film Heeriye. The film will begin its shooting schedule this winter.
In association with www.himesh-reshammiya.com