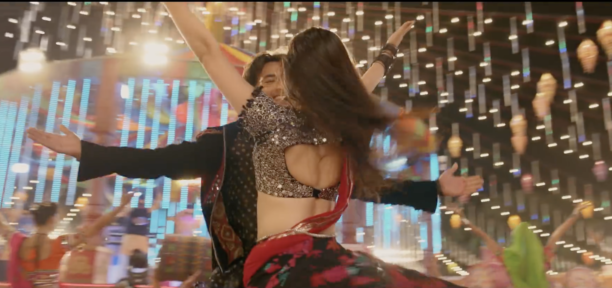 Bollywood is known around the world for lights, colour and songs. In 90 years of Bollywood cinema, you can be sure that there has been a song for every emotional moment whether happy, sad, surprised, action, romance or drama. Of course Bollywood thus has plenty on offer when it comes to festival time. Festivals are the chance for hardworking people around the world to stop and mix fun, religious belief and Bollywood together in open air function spaces as they dance the night away to some great tunes. At this time of year, the main festivals to consider are Navratri and Dusheera. Below are a few examples of what Bollywood has given over recent years.
We start with Navratri, a time for lengha, garba and dandiya in its most famous form, particularly in Gujarat. For Bollywood, this is obviously a time to show off some dance skills but also a time to express love hidden in plain sight from 'interfering' parents and society. Music directors and singers go the extra mile on these songs as if you can make a classic in this genre, it lasts forever with its endless repeats.
The first song is one of these ultimate classics of the form straight out of Hum Dil De Chuke Sanam, 'Dholi Taro Dhol Baaje'. Salman Khan and his adopted family dance on a constructed stage with everyone dawning puffy, but traditional looking clothing except for Salman himself in a spangly red vest. After some initial prayer to the deity of the event, Aishwarya Rai Bachchan comes dancing down the stairs and breaks into the circle that is so famous in the garba style. Salman comes across so that the beginnings of a love story can get underway. Vinod Rathod and Kativa Krishnamurthy bounce off each other beautifully changing up speed and volume over the beat provided by the dhol mentioned in the lyrics.

While 'Dholi Taro Dhol Baaje' gave Salman a chance to chase and flirt gently with Aishwarya, 'Chand Aaya Hai' from Dil Hi Dil Mein is an open love letter from a man to his beloved. In a massive hall filled to the brim with men and women dancing to a dandiya beat, our lead hero searches for his love while fending off friendly dandiya sticks as he passes through lines of people. Udit Narayan provides an easy soundtrack with the lyrics 'Chand aaya hai zameen pe aaj garba ki raat mein' and then slides into a smooth rendition as soon as the lovers find each other. While the world keeps dancing and spinning around them, they stop to have a personal moment. Kavita Krishnamurthy presents the girl's side in this A.R. Rahman classic.

But not even garba is all happiness and beauty as shown in 'Nagada Sang Dhol' from Goliyon ki Rasleela: Ram Leela. Once again, some prayers are offered to the deity of the event by the most respected elder following which Deepika launches into her performance. The music is a great expression of the form with the dancers all circling a man-size drum in vividly coloured red sarees. Shreya does a superb job under the guidance of Sanjay Leela Bhansali. Against the backdrop of the lit sandstone giving it a golden colour, is in severe contrast to the elder who brings the song to a close in her black saree with red palu while seeming to complete another part of the ritual. A sinister plot has not only been enacted but double crossed in all the noise and splendour of the event and this gives an understandably dark twist to a beautiful scene.

Even the happy versions play with the form of garba night but still deliver some great music. 'Kamariya' from Mitron is not only in a daylight scene but doesn't involve dancing around in circles. This one is more a street party where everyone has gotten organised to show off our hero's dancing skills. Darshan Raval is the singer behind the scenes and delivers some flawless Gujarati in the chorus about how the world revolves based on the heroine's wiggling of her hips. The beat is exactly right for dandiya as the ending of the song shows as the audience is taken into a fun modern dandiya night.

Thus, we see that the main traits of Navratri are colourful dressing, some great dancing and the ability to play with sticks without getting hurt. These themes are maintained in the newest member of the garba soundtrack 'Dholida' from Loveyatri. Neha Kakkar and Udit Narayan are back for some classic garba in the form of 'Dhol Bhaje' earlier mentioned. This time there are light shows in a massive open-air complex and the reference to the deity is left for the end, but this will no doubt be a part of playlists in years to come.

From a religious aspect, Dusheera couldn't be more different from Navratri. It's about the defeat of evil in all its forms, whether that be Raavana being finally defeated by Ram or Durga winning out over the Mahishashurs. Due to Durga's heavy influence it is often a women centric space and a chance for society to think again about women's rights and how women are treated. Still doesn't stop it being a time of dancing, colour and laughter!
Often this festival is depicted on-screen with the retelling in the form of a stage play of the Ramayana. The powerful Ram comes to the aid of a kidnapped Sita, taken by Raavana to his kingdom for evil purposes. A great version of this is the recent 'Prem Leela' from Prem Ratan Dhan Payo. An all-male cast, as might have been done in the past, headed by Salman Khan show this scene with Salman playing a sort of narrator role. It's both a fun song and a fun video clip as we get to see the story played out emphasising the love aspect of Ram's life.

For the serious side of things, we have 'Pal Pal Hai Bhaari' from Swades. A more traditional styling of the play, this is taken from the side of Sita, calling out to Ram in her time of need. Madhushree sings for Sita and Ashutosh Gowariker delivers some powerful verse as the great evil. The story seems to be progressing as expected with young and old attentively listening to the performance. However, at the key moment of Ram's entrance, it is not the onstage Ram but Shah Rukh Khan coming in from behind the audience to deliver a powerful message sung by Vijay Prakash. "Dekh taj ke pap Raavan, Ram tere man mein hai" is the point that strikes the heart of the matter.

There's been a lot of great dancing performances in this list but if it's the skills of dance that you want to highlight, it's hard to go past 'Dola Dola' from 2002's Devdas. Madhuri Dixit and Aishwarya Rai Bachchan are two of India's finest on-screen dancers and are both trained classical dancers. Backed by Shreya Ghosal and Kavita Krishnamurthy they are a formidable combination of dance, drama and music in this scene. Just like the defeat of Raavana's evil that is the keystone to this festival, this song breaks down the societal barriers by bringing together Paro and Chandramukhi from Sharat Chandra's epic and classic tale. Maybe in watching these two powerful ladies perform their incredible artform, the audience will think about why it is needed to be done.

Time and time again we see Indian culture and its people shown as colourful and loud, often dancing and singing and at festivals for different times of the year. There are so many of these festivals considering the major religious groups that its hard not to believe that it's all that ever gets done. But as it should do, Bollywood is ready to provide the soundtrack, the film clip or the stars to make each festival more special than the last.