Action movies are back in style and every actor worth a punch at the box office is getting back into to action in a big way. Ghajini in 2008 was the first action masala movie with a big star after a long time and took audiences by storm. Then followed Salman Khan's Wanted in 2009, his Dabangg in 2010, Ajay Devgan's Singham in 2011 and Hrithik Roshan's Agneepath earlier this year. Each film smashed records at the box office, crossing the 100 crore mark and bringing back the single screen nostalgia for action films – the grand hero entry, bravado performances and gripping tales. They also generated interest within the multiplex audiences, who were used to watching family dramas and glitzy romantic films set abroad.
In a tribute to the Bollywood action hero, we present to you some of our favourite action scenes from some of our favorite stars, in no particular order – we don't want a fight breaking out!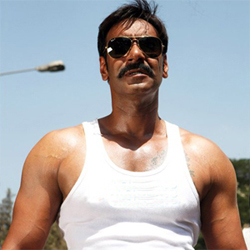 Ajay Devgan
Ajay started his career as a successful action hero in films like Phool Aur Kaante and Jigar. The action hero in him gave way to more serious roles, winning him accolades and awards. But Ajay was back last year returning to action hero avatar in the form of Singham, another successful south Indian remake. Our chosen part is the the parking lot scene when Gotiya's second daughter gets kidnapped. The best part is when Singham (Ajay) steps out of the car when it's drifting.
---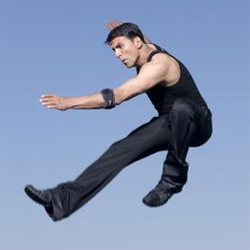 Akshay Kumar
Akshay began his career in the successful 'Khiladi' film series. Although recently Akshay's career has given way to romantic and comedy roles, he is still remembered for his action films and was more recently the host for the Indian version of Fear Factor – Khatron Ke Khiladi. We chose to be a bit different here and rather than choose a film scene, present to you an advert Akshay did for the drink 'Thums Up'. Based on the concept of free running, the advert sees Akshay jumping off a building, onto another and following one daredevil move after another ends up at a 'Thumps Up' van to claim his bottle! An amazing example of what the action star is capable of.
---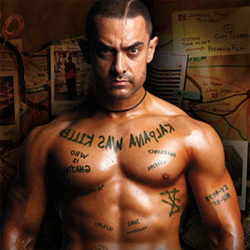 Aamir Khan
What Aamir does, everyone follows, and so for many the trend of south Indian remakes started with Aamir's Ghajini. Not really an action hero throughout his career, Aamir literally completely transformed himself for his film, which is remembered as one of the more 'intelligent' films of the action genre. The scene in question is the climax, when Aamir's character arrives looking for Ghajini to avenge his partner's death and here on begins literally a marathon sprint into the heart of Ghajini's dragon's den, battling multiple men to get to him. The pure rage and emotion in Aamir's eyes were enough to lift you off your seats.
---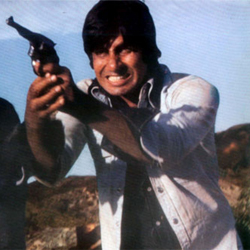 Amitabh Bachchan
The original angry young man defined the action hero and showed us all how action climax's should be: facing your enemy in a good old fight to the death fisticuff! There are way too many to mention here but we just have to squeeze in a few: Agneepath, Khuda Gawah, Hum, Ganga Jamuna Saraswati, Toofan, Mard, Shahenshah, Sholay. The scene we chose is from the 1983 film Coolie, it's an emotional one and an example of just how real action can be. The film became famous before it's release when Amitabh Bachchan was critically injured while filming a fight scene with co-star Puneet Issar that almost cost him his life. When you watch the scene now, the exact parts are purposely frozen in real time where he was hurt: painful and real!
---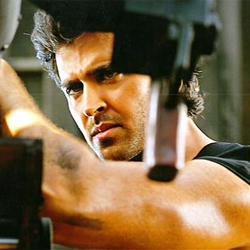 Hrithik Roshan
With his Greek God looks and body, Hrithik has more often relied on his lover boy looks and later his talent to play his roles. We never let his looks deceive us though, as he proved with his action skills in both Jodha Akbar and the recent Agneepath. However, we're going to take you back even earlier than that, when Hrithik showed us signs of just how powerful he could be if he did ever take up action in Mission Kashmir. Only his third film, but one that was the first of it's kind in India to make use of Matrix-style filming and camera shots. The scene in question is again the climax when Hrithik faces his nemesis Sanjay Dutt. What takes place is an emotional fight in the swamps, pure magic!
---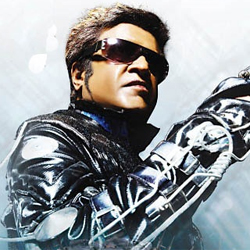 Rajnikanth
Rajni – the king of action heroes, is a template for what has become the ultimate Indian hero, with a unique style that no one can match. The cigarette lit mid air before it reaches his mouth, the double flip sun-glass move, even at 61 Rajni can still give any younger action hero a run for his money and he literally does each and every time. The scene we've picked, out of dozens of contenders, and to play it safe is the mega climax of his recent Endhiran (Robot), where we see hundreds of bad Rajni's fight the good Rajni – two words: mind blowing!
---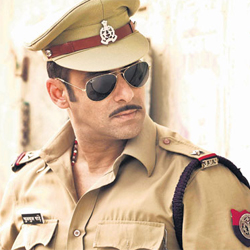 Salman Khan
Salman has always been the darling of the masses and also a 'bhai' (brother) for many of his followers. The last couple of years have seen Salman shine again, playing the action hero who can beat up a dozen guys, whilst spinning out the one liners: Wanted, Dabaang, Bodyguard – all massive money spinners. We've picked for you the opening fight in his recent Bodyguard where he jumps off the train in the opposite direction to go and save two damsels in distress. Pure Salman: style, comedy and witty dialogues!
---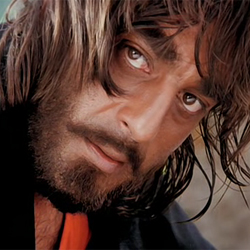 Sanjay Dutt
Sanjay 'baba' has done it all: romance, comedy, anti-hero and action. The original 'Mr. Muscle' was an inspiration to many actors who followed, even today he is still remembered for some of his iconic roles such Khalnayak and Vastaav. Who can forget the legendary fight scene against Jackie Shroff in prison, where Sanjay 'baba' fights like a bull – literally! The sheer enjoyment and fun he has at being evil was addictive – someone give me a bottle!
---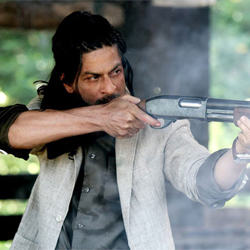 Shah Rukh Khan
Shah Rukh can do action? Oh yes he can and the car chase sequences in Don, where the police chase Don from the beach till the forest and in Don 2, when Roma chases Don through Berlin, are both testament to that. Even then 'King Khan' is remembered more for his romantic roles, as 'Rahul' or 'Raj', rather than as an action hero. But here, we have to remind you of a rare time when even romantic hero's have to turn to action, proving that they can go to all lengths to save their lady love. In the climax scene of Dilwale Dulhaniya Le Jayenge, where Raj has to fight Kuljit and his goons. Yes, romantic heroes can fight!
---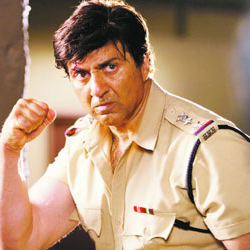 Sunny Deol
Sunny followed in father Dharmendra's footsteps as an action hero and is still dubbed by his fans as 'He-man' even today. His partnership with Raj Kumar Santoshi spawned a series of successful films in which he played the 'common man' who if pushed too far would snap and take things into this own hands (Ghayal, Ghatak). The action scene we wanted to share with you was Sunny's introduction in Damini. Here he helps Meenakshi Sheshadri from goons who are chasing her, but delivers the action scene with no dialogue and only two punches – powerful!
---
The action hero is clearly here to stay and he coming weeks and months see Saif Ali Khan in Agent Vinod, Akshay Kumar in Rowdy Rathore and Salman Khan back with Dabangg 2. We'll aim to bring you all the latest on them, punch by punch!