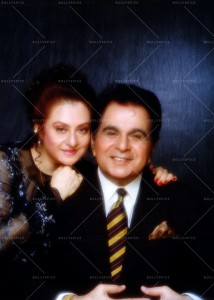 Come 9th June, the long wait on the biography of Bollywood thespian Dilip Kumar will be over! Titled 'Substance and Shadow', the biography was written by author Uday Tara Nayara a close family friend. "The title Substance & The Shadow was suggested by Dilip saab. The 'substance' refers to the actual person behind the legend and the 'shadow' is the mythical image that has come to surround his persona," Nayar says.
One of Bollywood's greatest actors Dilip Kumar's career spanned 60 years and he starred in such classics as Devdas and Mughal-E-Azam to name just two!
Earlier scheduled to be released on his 91st birthday, the highly anticipated tome is all set to be revealed in Mumbai, India on June 9th.
The launch will take place at renowned hotel in Mumbai and we hear it will be a historic moment! Apparently the who's who of the film industry are coming together and are actively involved in making the event one to remember!
Here's just some of the guests!
Filmmaker Karan Johar will be the host of the mega book launch event!
Lata Mangeshkar will light the inaugural lamp and begin the event by singing a few lines for Dilip Sahab.
Amitabh Bachchan and Aamir Khan will be unveiling the autobiography. While Big B will read a verse or a paragraph from the book, Aamir will recite a poem, written by Prasoon Joshi.
Other close pals and industry veterans like Dharmendra will read a few lines on the thespian; Vyjayanthimala will speak few words in honour of the legendary actor.
Interestingly, Javed Ali and Shaan will perform a medley of Dilip Kumar's evergreen hits, which has been composed by Lalit Pandit.
If this was not enough then, an audio visual-3D mapping video on the entire journey of Dilip Sahab will also be played at the event.
Hema Malini, Madhuri Dixit, Tina and Anil Ambani, Kamal Haasan, Priyanka Chopra, Parineeti Chopra, Vidya Balan are also expected to grace the event!
Author Nayar said in a recent interview: "It's been a 10-year journey to put together the authorised biography of Yusuf saab. We've finally done it. It couldn't have happened without the active support of Yusuf saab and Sairaji. They helped me piece together the life of a man who is not just the greatest actor in the country but also a father-figure for me."
Indeed, this a grand event to look forward to!