The loving mums, the stable dads, the annoying sisters and the protective brothers; Bollywood films are jam-packed with them. However, in true tradition, these relationships bring with them the trusted grandparents, the aunts, the uncles and the cousins without whom, one has to admit, a big fat Bollywood family would be incomplete. We enjoy the laughs and the shared experiences that these families have to put smiles on our faces and we also feel sadness in our hearts in their pain and disagreements. This week we've hand-picked some of the films which make us want to be part of an extended family.

Quite possibly one of the first songs which come to mind when thinking about families is from the film Hum (1991): Ek dusre se karte hai pyar hum. It signifies all that we love about the families of Bollywood. The film's plot was centred on a man, Tiger, played by the legendary Amitabh Bachchan. He is not afraid of standing up for and protecting his family and it is this very attitude which sees him tied up in the corruption of the police and is framed for the murder of the family of his boss. Tiger and his family flee in fear of a false sentence. The villain (Tiger's boss), who is sentenced to a jail term, threatens to kill Tiger upon release. As a climax, there is a kidnapping and some very run-of-the-mill (for their time) dishoom-dishoom scenes resulting in an obvious rescue. The films also starred Govinda, Kimi Katkar and Rajnikant.
You'd be forgiven if you miss how Hum makes you yearn to be a part of a happy family. Although the storyline doesn't allow for much happiness, what is inspiring is Tiger's feeling towards his siblings and their families. Hum makes you feel like it's a complete family that has sadly been hit by circumstances beyond their control. You're almost left wondering what the family would've been like if the gruesomeness was omitted.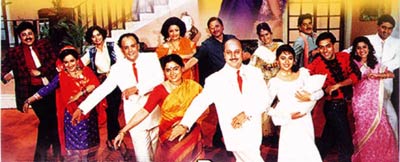 Hum Aapke Hai Kaun (1994) is a film which is close to a lot of film-lover's hearts. In typical Rajshri style, it is about two families that are brought together by the occasion of the wedding of Rajesh (Mohnish Behl) and Pooja (Renuka Shahane). The film gives birth to so many characters, especially Prem (Salman Khan) and Nisha (Madhuri Dixit). The two come together at the wedding and, being the blood siblings of the couple in question, they inevitably spend much time together and become closer. Disaster strikes when, in an untimely tragedy, Pooja dies from a head injury she gets when falling down some stairs. The two families decide that Nisha should fill the void left by Pooja and marry her brother-in-law Rajesh, not knowing about her love for Prem.
It can be said that Hum Aapke Hai Kaun's success is in its focus on a family wedding. Weddings are known to be extravagant occasions in Indian cinema and this movie was no different. In the furore of celebrations, it's hard to not want to be a part of the extended family in some way, even if just as a fly on the wall.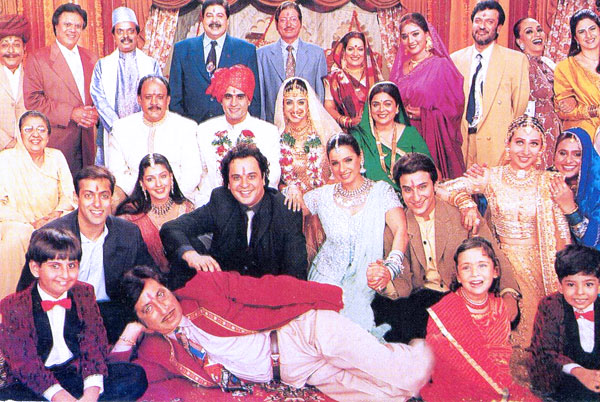 Another within the Rajshri banner, Hum Saath Saath Hain (1999) can very easily be seen as portraying the ideal family. With a huge star cast including Salman Khan, Saif Ali Khan, Neelam and Tabu to name a few, the story was also one which left you wondering how the maternal head of the household could even think of sending a cat amongst the pigeons. The mother of three sons is talked into splitting her family up so that a "batwara" situation can be avoided even before it comes to the forefront.
Hum Saath Saath Hain makes you feel like you are part of the family. One can't deny that everyone wants an older brother like Vivek (Mohnish Behl) and a sister like Sangeeta (Neelam). The recognised names in the cast made this film a huge success in its time and the music of the movie is unforgettable too, especially the very heartfelt "Yeh to sach hai ke bhagwan hai".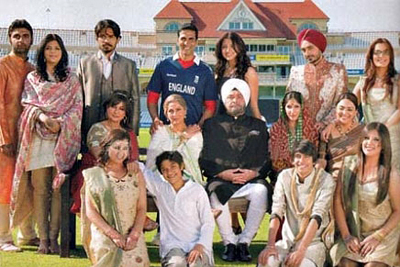 Perhaps one of the less obvious in the list, Patiala House's (2011) USP is in the characters and members of a family that stick together in order to change the head of their household. It is the story about the perfect son, Gattu, played by Akshay Kumar in what is perhaps the most sombre role of his career. Gattu doesn't see fit or feel confident enough to stand up to his father, played by Rishi Kapoor. It is because of this that none of his younger siblings are able to pursue their own choices. When Simran (Anushka Sharma) enters his life, she gives him the encouragement to fulfil his dream of becoming a cricketer behind his father's back.
This movie may not be instantly remembered as leaving you wanting to be a part of a big family but it definitely makes you feel proud of the way the family make a stand together. It is commendable of the youngsters to make their elders see their point of view in a way they can't ignore. It also plays on the belief that an NRI family perhaps harbours more traditionalist values that a family which resides within the sub-continent.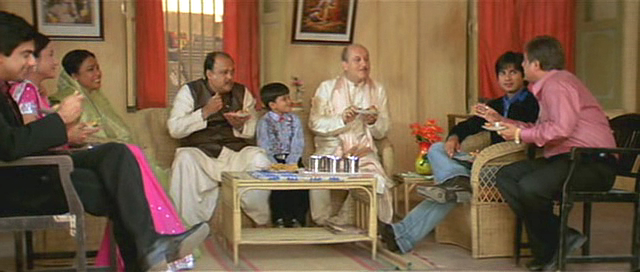 The third and final of the Rajshri inclusions within our list is Vivah (2006). The story of this family-oriented movie is also one which surrounds an arranged marriage. Poonam (Amrita Rao) and Prem (Shahid Kapoor) and instantly attracted to each other from their first meeting. They agree to get into wedlock but there is to be a 6 month wait until their big day. They and their families spend much time getting to know one another. Tragedy strikes when a fire within Poonam's home leaves her with major burns on her face. She feels ashamed to be marrying Prem in her condition but Prem comes up trumps and confesses his love is not just with her physical beauty.
Vivah's speciality lies in the moments that the families live together. The two sides go on vacation together and one can see a love blossom within the two characters despite being in such an atmosphere. Performances within the film were commended although the movie received a mixed response overall. What Vivah does is revive one's sense of being in a family and every family loves weddings!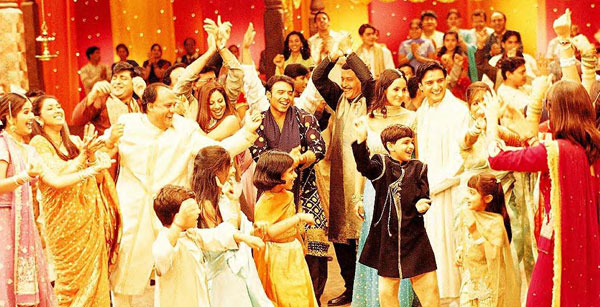 Mere Yaar Ki Shaadi Hai (2002) is about friendship before family but it's about a family nonetheless. When Sanjay (Uday Chopra) receives a call from his childhood friend Anjali (Tulip Joshi) saying that she's getting married, he decides to go and attend the festivities. Unknowingly, he realises his feelings for her are more than just friendship and when he meets Rohit (Jimmy Shergill), Anjali's husband to be, the two decide that they will both try to win Anjali's heart in their own ways.
Mere Yaar Ki Shaadi Hai's pros come in the form of Anjali's family members who light up the screen with the comedy and their "always involved" status. Whether it's the aunt who is always teasing or the uncle who has a wondering eye, the characters signify the importance of different kinds of people within a family.
Perhaps not the conventional family choice, Kal Ho Naa Ho (2003) is about an incomplete family, so to speak. It surrounds the character of Naina (Preity Zinta) who doesn't have many reasons to smile. She studies with Rohit (Saif Ali Khan) who she just about gets along with. When her neighbour's relative, Aman (Shah Rukh Khan) comes to stay, she sees her life change. Aman somehow interrupts what Naina thinks is a completely normal standard of life. He encourages her to be a more flamboyant version of herself. She falls in love with him, not knowing how he feels but due to circumstances; the love story is not meant to be. In order to keep Naina happy, Aman takes the help of Rohit to give Naina a best friend and partner in one person.
Kal Ho Naa Ho's extended family isn't much extended but becomes so when the neighbour's family (and the neighbour himself) come and invade Naina's household and life. Their togetherness and support of each other makes you want to be a part of such a family who will see you through some of your toughest times with a smile on your face.
We hope this list is enough to make you look to films that perhaps aren't your most obvious choice but can be tailored and have an impact on you. Once again, we hope you will share your favourite Bollywood depictions of families with us. Bollywood really is all about loving your family!