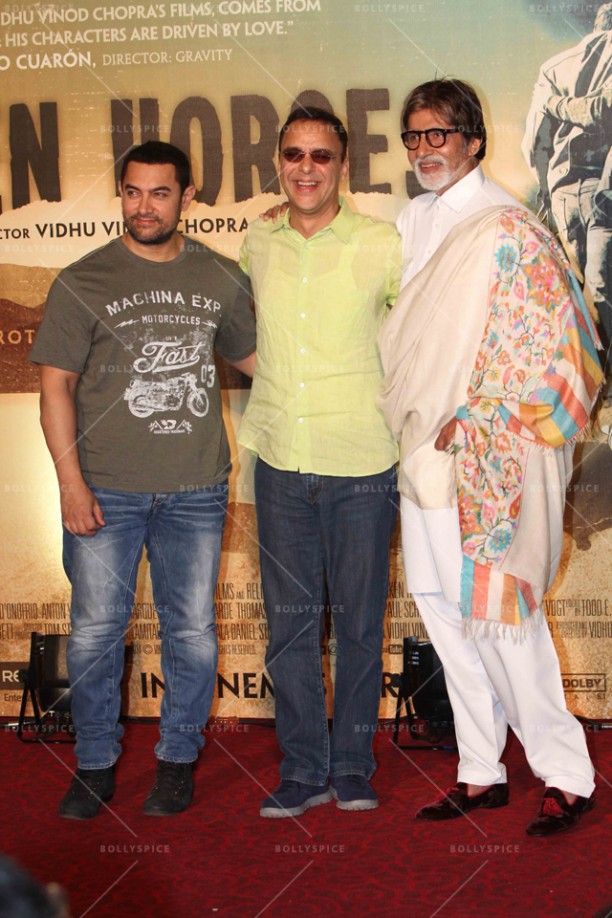 Today saw the unveiling of the much anticipated trailer of legendary filmmaker Vidhu Vinod Chopra's maiden Hollywood venture Broken Horses by Indian film superstars Amitabh Bachchan and Aamir Khan.
Vidhu Vinod Chopra has always set benchmarks for the Indian film fraternity and has made some of the most memorable movies that India has cherished such as the Munnabhai series, 3 Idiots, Mission Kashmir, and Parinda. With Broken Horses, Vidhu Vinod Chopra has become the first Indian filmmaker to produce, direct and write a Hollywood film.
Speaking at the event, Vidhu Vinod Chopra said, "I am grateful to Amitabh Bachchan and Aamir Khan who agreed to launch the trailer of my first Hollywood film Broken Horses. It is a very special film for me and special people launching the trailer will make the moment even more memorable."
Set in the shadows of the US–Mexico border gang wars, Broken Horses is an epic thriller about the bonds of brotherhood, the laws of loyalty, and the futility of violence.
Broken Horses' cast features – Vincent D'Onofrio (The Judge, Full Metal Jacket, Men in Black), Anton Yelchin (Like Crazy, Star Trek, Alpha Dog) and Chris Marquette (Alpha Dog, The Girl Next Door). The cast includes popular Spanish actress, Maria Valverde (Exodus), Thomas Jane, and Sean Patrick Flanery.
Broken Horses will be marketed and distributed by UTV Motion Pictures in international markets and releases in cinemas on April 10.

BROKEN HORSES – SYNOPSIS
Having left town as a child after the death of his father, young music prodigy, JACOB HECKUM, returns to his desolate hometown after years only to discover that BUDDY, the child-like elder brother he left behind, now works for a notorious drug gang. The gang's ruthless boss has twisted Buddy's simple mind and manipulated him into a killer…a surrogate son who blindly does as he is told.
Jacob is unable to convince Buddy to leave his new fraternity. Drowned in guilt for having abandoned him, Jacob realizes the only way to save Buddy is from the inside out.
Set in the shadows of the turbulent American-Mexican border Broken Horses is a gritty, epic thriller about bonds of brotherhood, laws of loyalty, and the futility of violence.
Broken Horses, written, produced & directed by Vidhu Vinod Chopra features Vincent D'Onofrio, Anton Yelchin, Chris Marquette, Maria Valverde and Thomas Jane.
Worldwide release 10th April