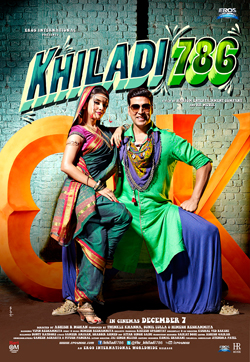 Bollywood supremo Akshay Kumar will once again please his adoring fans worldwide when he returns, after an absence of 12 years, to his famous Khiladi franchise with Khiladi 786.
The film sees Akshay flexing his box office pulling power as well as his brawn. He pulls no punches as he high-kicks his way through some truly spectacular stunts, harnessing his considerable experience of martial arts and extreme sports to make the film a truly visual feast of high-caliber action and stunts galore all sprinkled with some classic 'Akshay humour'.
The all-action, stunt-laden film, produced by Akshay's home production company Hari Om Entertainment and Himesh Reshammiya's company HR Musik, once again teams the versatile Akshay with previous co-stars Paresh Rawal (OMG: Oh My God), Mithun Chakraborthy (OMG: Oh My God) and leading lady Asin (Housefull 2) in this explosive Masala action-comedy film. The supporting cast boasts the comic talents of Johnny Lever (Golmaal 4, Housefull 2) and musical hero Himesh Reshammiya, who has co-written the film's script with Kushal Bakshi and Bunty Rathore as well as penning the musical score. Khiladi 786 has been directed by debutant Ashish R Mohan who previously assisted Rohit Shetty with hits Golmaal, Golmaal Returns, All the Best: Fun Begins and Golmaal 3.
Bollywood's original Khiladi Akshay Kumar has enjoyed a successful year so far with his first two releases of 2012 Housefull 2 and Rowdy Rathore both entering the coveted 100 crore club at the box office in India. Recently, Akshay released his maiden film project OMG: Oh My God from his new production company Grazing Goat Pictures to rave reviews from audiences and critics alike. The film, which is a departure from Akshay's more typical Bollywood offerings, is an avant-garde black-comedy exploring the realms of faith and God.
Khiladi 786 will once again see the ever-entertaining Akshay assume the role of action hero as he fights the bad guys, cracks some wise one-liners and gets the girl in this year's must see festive film. Khiladi 786 releases internationally in cinemas on 7th December 2012.