By: Anjum Shabbir & Bodrul Chaudhury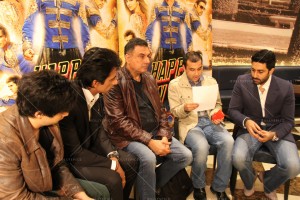 BollySpice got an exclusive chat with the male cast of the much anticipated film Happy New Year. We spoke to Boman Irani, Abhishek Bachchan, Sonu Sood and Vivaan Shah about the film, as well as about their much talked about world tour SLAM. Check out what they had to say to us in this exclusive interview. Enjoy!
How has it been taking the Slam tour to countries like the UK, USA and Canada?
Abhishek: It's kind of weird talking about it. I think the audience should decide if they liked it. From our part as performers, we've had a wonderful time. The audiences from each and every destination have been absolutely brilliant. I hope they enjoy the show and we've all worked very hard for it. We think we've put up a reasonably good show. We're excited! We've already finished 6 concerts in the United States and Canada. And now we're here in the UK. The UK crowd has always been exciting and very vociferous, which is what you look forward when you're going to be performing live. So we're very excited.
So moving onto Happy New Year now; tell us about why you decided to be a part of this film?
Boman: I think the film chose us. There's no way we can go around saying 'choose me for this film.' Farah spoke to me about this film 10 years ago soon after Main Hoon Na. I've always been a part of this film and she spoke to Abhishek too. Shah Rukh also decided to green light it and participate in it too. So we all came together and in many ways destiny did bring us together! It's not just that we were the right people for the job or the best actors available. I think sometimes destiny brings you together for all the right reasons.
How has the experience of shooting the film been for you guys?
Sonu: I think this is definitely the most special films of our career. There's such an amazing star cast with Shah Rukh as an umpire. There was lots of fun on the sets and this is the biggest film ever made. So everything we experienced as actors is going to stay with us all our lives and Happy New Year is my most special film.
Did you all work well together, or was there a lot of rivalry on the sets?
Boman: If there was rivalry, the film wouldn't have shaped up the way it did. I think everyone was there for each other, supported each other and everyone has an equal share to begin with. Rivalry is never a good thing for actors. It's the worst thing people do to your creative soul.
What was it like to be directed by Farah Khan?
Sonu: She is a director who knows how to present her actors. We never every thought we'd get to work with a director who would shoot us the way we had visualised. Everything is larger than life and I think the way she presents her actors, no one else can do that.
Vivaan: She is the most entertaining person ever! It's so much fun and entertaining to be with her, just to spend time with her and hear her talking to everyone and directing too. It's quite amazing!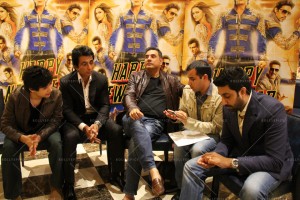 Boman, apparently you have taken part in some dance sequences after a lot of persuasion from Farah. What made you finally agree to it?
Boman: The dance sequences were a part of the script. It was not something that was thrust upon me in the middle of the film and told 'let's do a song.' It was pretty much integral to the narrative of the film which I had to be a part of. I think it's not just I but all of us had to pull up our sock and dancing shoes and rehearse like we never did before. Because we're not meant to be great dancers, but by the end of it we should be dancers who are proud enough to represent our country well. And for that reason we had to do a pretty good job as dancers. Within my means, I think I've done the best I could.

Is there anything interesting that you can tell us about the film without giving too much away?
Boman: I think the trailer gives away a hell of a lot. It tells you the story, the plot, the genre of the film which is actually two genres rolled into one. They both cross into the same path. So it's beautifully structured in that sense. But to give away something? I actually think it's inappropriate to give away too much before the film comes out. The only thing we can give away is the fact that people are going to love the film.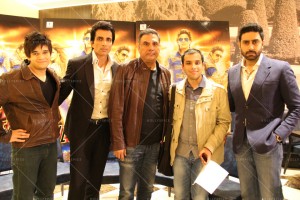 Finally, in five words, how would you describe Happy New Year?
Boman: The time of our lives! And I count everyone in that!
BollySpice would like to thank Boman Irani, Abhishek Bachahn, Sonu Sood and Vivaan Shah for chatting to us!
You can catch Happy New Year when it releases in cinemas on 24 October!