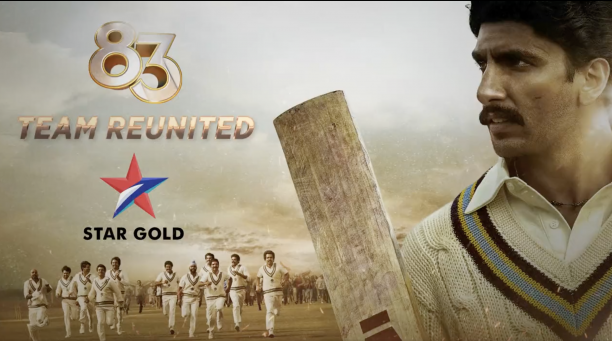 Kabir Khan's great sports drama '83 , which opened in cinemas on December 24th is now available on Star Gold and Netflix. The movie features an all-star cast, including Ranveer Singh as Kapil Dev, Deepika Padukone as Romi Dev, Pankaj Tripathi as PR Man Singh, Boman Irani as the sports commentator Farokh Engineer as well as many other team players.
On the 25th of June 1983, the Lord's Cricket Ground witnessed one of the biggest underdog stories in sports history. Fourteen inspired men fought against all odds and orchestrated India's greatest sporting triumph by beating the twice-over World Champions West Indies! This victory put India on the map again and provided the platform to make India the greatest cricketing nation in the world today. Armed with self-belief and conviction, one man guided the team to a historic victory.
Here is the trailer!

With the movie now playing on Star Gold and streaming on Netflix we have some incredible and moving memories of the film from Boman Irani and Pankaj Tripathi.
Boman Irani about getting into character to play the cricket legend for
'83
said, "I had to be Farokh at heart; that was the joy of playing him & being able to present his thoughts well!"
The esteemed actor shared an interesting anecdote about prepping for his role, "Farokh Engineer was the only Indian commentator for the 1983 World Cup. As a child, if someone has seen MS Dhoni on TV and he later gets to meet him or spend time at his house, how would that person feel? I felt just that when I got a chance to meet Farokh and stay over at his place. We watched the India-Pakistan match together. That was one of the best times that I had spent while working on a character. While staying with him, the idea was to try and understand the man, his psyche. I had followed his work as a kid. The Farokh I met is an 80-year-old guy and the Farokh I am playing is about 40 years younger. He was a different man then. If you try to imitate someone that is all you get."
"The idea is to understand what he was thinking back then, sitting in the commentary box and being run down by a white guy who was making racist comments. He was probably embarrassed. I don't know what he sounded like in those days. There is very little in the records. He insisted that in 1983, he had sidelocks. I saw a stray picture of him and there is no sidelock. But I have got sidelocks as a part of my look. I have to be Farokh at heart. That is the joy of playing him; being able to present his thoughts well. I didn't have to imitate him to play him. I can't wait to see the audience reaction to the movie and my character in it," Boman adds. 
Pankaj Tripathi said that he was in tears when he was going through the script of '83 . "Working on '83' was an emotional ride for me even when I was going through the script. At some of the places, I was in tears,"
Adding, "I am really inspired with the whole journey of Kapil Dev and the entire team. I was certain that I wanted to be a part of this iconic film."
"I play the character of PR Man Singh Ji. India knows the players but not him. There's not much information available about him, but his hard work helped India to win the World Cup. I spent an entire day with PR Man Singh Ji at his Hyderabad residence. We were together from morning to evening, ate together and even saw his house. He has a personal cricket museum which is just fabulous. There is a room dedicated to cricket in his house. He really loves the sport and has even written books on Hyderabad cricket.."
For Boman Irani and Pankaj Tripathi and probably every actor associated with Kabir Khan's '83, it certainly seems that the sports drama is not just a film but an emotion which they will cherish forever. That is what makes a movie truly special.
Experience sports drama at its best with Kabir Khan's '83 now showing on Star Gold or Netflix.