I admit, I love love stories, and from the first time that I saw the trailer of Shirin Farhad Ki Toh Nikal Padi, I thought that this was going to be a cute romantic comedy. However, this not your average filmi romance because instead of young love, this film tells the story of finding your soul mate even when you think it might be to late in life. Shirin and Farhad are two over-forty middle aged Parsi people leading their lives amidst a fast dwindling Parsi community. Self content and enveloped in their daily worldly affairs, they have not had the time to pause and think about love. That is, until they meet each other. What follows is an unconventional love story – quirky and sweet, having its own essence of romance, and teaching the world that love has no expiry date. The film marks the acting debut of choreographer and director Farah Khan, and starring opposite her in the romantic lead is the wonderful Boman Irani. Mr. Irani and I had a fabulous and fun conversation about the film. Check out what Mr. Irani told me about Shirin Farhad Ki Toh Nikal Padi, what it is like to be the one that woos, why he thinks their pairing has worked so well, and so much more! Enjoy reading it – I certainly enjoyed speaking with him!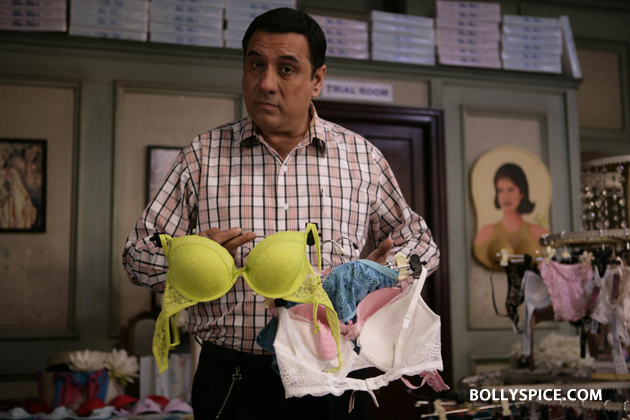 What made you decide to take this role in the film?
Well, there were two reasons. One, when I read the script I thought it seemed very, very sweet and there was something to be said. Apart from it being a romantic comedy, what it said was that you are never to old for anything, even love and romance. And if you take it a bit further, it says you are never too old to do anything and no one should stop you from doing anything you want to do, no matter what the age you are. So that thought excited me. Secondly, when they told me that Farah Khan is being considered to play the leading lady, I thought that was just a wonderful coup. I thought it was a wonderful idea as it was most unusual. So I said, let's do a table reading with Farah Khan and see how it goes. It went off like magic and I am so very glad that she worked out so wonderfully well and that we did the film, because it has been quite an experience, I can tell you.
That is one of my favorite things about it. That it is a story about love in later years and that it is never to late.
Yes, exactly!
Tell us about your character Farhad.
Farhad is a lingerie salesman in a little shop. I hope the way people look at these people changes, because in India it's not a very exciting prospect for a girl to marry a guy who is a lingerie salesman. His job is not an attractive feature for a lot of woman considering marriage in a small community. Now what happens is his mother wants him to get married and this goes on and on and on. One fine day, when he is at the end of his tether, he goes for one last shot to one of these matrimonial soirees. He bumps into Shirin who is not one of the people on the matrimonial lists; she actually is one of the organizers of that event. He just thinks she is so attractive and she kind of finds him honest and his honesty is what attracts him to her. They kind of hit it off. Then strangely enough they meet two or three times by chance and so then they say this was meant to be. They start liking each other. Then, of course, there is a roadblock in the form of my mother and then, of course, alls that ends well. It is a great ride. It is a great romp. It is wonderfully acted and it's great fun!
This is the first time you are not stopping a romance or pushing the romance forward; how was it to actually be the one falling in love?
(Laughs) You know, I started out in Hindi films at the age of 44, playing a bald principal and my daughter was being romanced by the goon of her year and then you know 8-9 years later, now suddenly I am playing the romantic lead and I just feel like Benjamin Button. (Laughs) I think at the end of the day it is an acting job. At the end of the day I am not playing your hero – I am playing a romantic lead. Yes, sure he is the hero of the film because a hero does something heroic and he does do something heroic, but he is not your typical hero. Sure he woos the girl and he romances her and all of that, but having said that the fun part of it is that it is all so clumsy, it is all so awkward, it is all so unconventional, because he doesn't know how to romance but he tries because he really is a romantic at heart.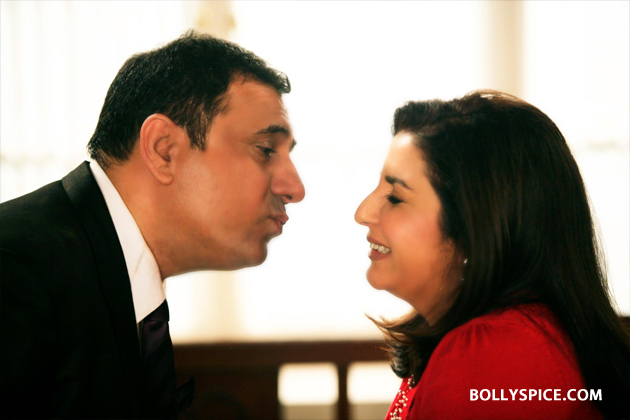 You do get that from the promos… that scene where he is sitting there in the towel…
(Laughs) Yes! He doesn't know what to do because this is his first opportunity with a girl in a bedroom. He says in case he loses his opportunity he may not get it for the next 15 years. (Laughs) It is all in good jest, it's great fun and it is so fresh. It is extremely charming at the end of the day, because we are not trying to play the conventional hero and heroine. We are taking the mickey out of each other. We are stumbling through it, we are tripping through it and we are bumbling through it, which is what makes it different and unique.
You and Farah have such a great chemistry on screen. You really seem to spark off each other and have a really great relationship on screen from what we have seen so far. How was it to work with her?
I think that has to do probably with the great relationship we have off screen. We are really, really fond of each other. We really, really love each other's company. We kind of tell and get the same jokes and have the same kind of responses to a certain kind of humor in life. We chat and we are comfortable with each other. There is a rhythm to the way we speak to each other with the repartee, the one-liners, the put-downers and no offense is ever taken. We protect each other in front of the camera. I make sure she is doing her best and she makes sure that I do my best. If she feels that maybe I could do a better shot she will just nod her head or wink at me and say one more. Likewise, if I see that there is something that she could do differently I might just take her to the side and say why don't you try it like this, because it was her first acting experience. It must not be very easy for someone to get into a lead role like that in their first acting job. Especially when people are watching you like a hawk, because they are saying Oh Farah Khan wants to act… let's take a look. If she is not halfway there, they are going to crush her, you know? Sadly, that's the way it is. But if she surprises them with a wonderful performance they will go crazy about her, which is my guess. They are going to love her. There is a certain nonchalance to the way she has approached the acting and it takes a lot to make it look effortless and she really made it look pretty effortless.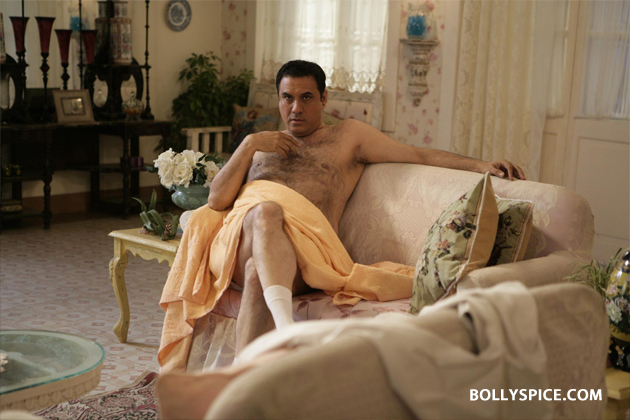 Tell us about working with the director Bela Sehgal.
Bela has been wanting to make this particular film for a very, very long time. She tried many routes, she tried many styles, different approaches and different backdrops and finally she found it. And when they approached me I thought that the casting was very, very crucial to this film. You see I have worked with 22 debut directors and out of them six of them have been female directors, which is wonderful. I feel very proud of myself that I have been part of six films with first time female directors. You know a first time director is very, very passionate. Not that a director who is making his 15th film is any less passionate but he has traveled the road and he has done what he had to do and there is far more ease to his approach, so he may not look on the face of it like it is enthusiasm, you know what I am saying. But here, when you see a first time director and how much this film means to him or her. The enthusiasm and the passion with which they do every single detail and apart from that, just the enthusiasm to be on set the first thing in the morning and make sure everything is going well. You just have to empathize and feel for that and do your best to make sure that that little dream really works out well in the end. In the morning when Bela does wake up on the 24th, I just hope that all her dreams will have come true, because it must mean a lot to make a film.
What is your favorite thing about this film?
My favorite thing about the film is that it is unpretentious. Also we have two actors who have gelled so beautifully. I am proud of that! Literally! I mean you can't really talk of your own performance ever or say I am proud of… I feel really awkward to speak of my own work; it is something that I shy away from. But, I really am proud of the way we have gelled together. I think it is a very rare thing in films when two people selflessly give everything away towards the unity of a single role and that single role is the two of us together. Nothing else matters. I don't think either one of us wants to outshine the other, because then we have defeated the very purpose of becoming a unit. I really am very proud of that. Apart from that I would also like to say it is a breezy, breezy film, which moves in a wonderful pace. I would like to watch this film over and over and over again myself. And that is a very rare thing for me, because I am not very good at watching my own films.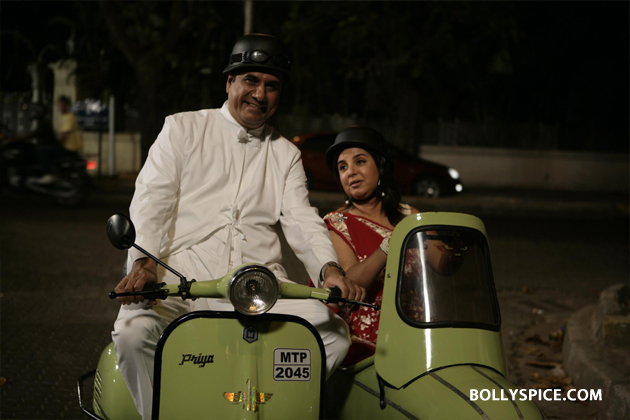 This is something Hindi audiences really haven't seen before, you know this look at an older romance, but the response to the promos and the songs has really been amazing. How does that make you feel?
For Farah, especially when she signed on, a lot of people said who would be interested to watch Farah Khan act as a heroine? Well, I have been pleasantly surprised at the phenomenal reaction to the trailer and the fact that everybody seems to be interested in watching this film when it comes out. This goes to show there are no norms and there are no rules. The response is purely based on a fresh idea. It could have gone any way and they could have said who wants to see these 50 year olds trying to kiss throughout the entire film? That's the beauty of it. That's the wonderful part of it.
Tell us about your dance and choreography in the quirky 'Kukuduku' song sequence.
Kukuduku is the sound we say in Hindi when the cock crows. This guy can't believe his luck that a girl has shown some interest in him so he comes in the room, locks the door and jumps all over the bed and he is singing this song. I said listen, choreograph this song in a 8 bar kind of situation and then let me just jump all over the place and do an interpretation as an actor without any fixed choreography. Pony Verma was the choreographer for that song and that was the great thing because we broke it down here and there to little bits to kind of make sure it is covered well. It was phenomenal what she did, but you know I felt that sometimes dance should not look like dance. Choreography does not necessarily mean steps that you do in a discotheque. It should be an actual expression of what you are feeling at that point of time as a character and I think it worked out magnificently.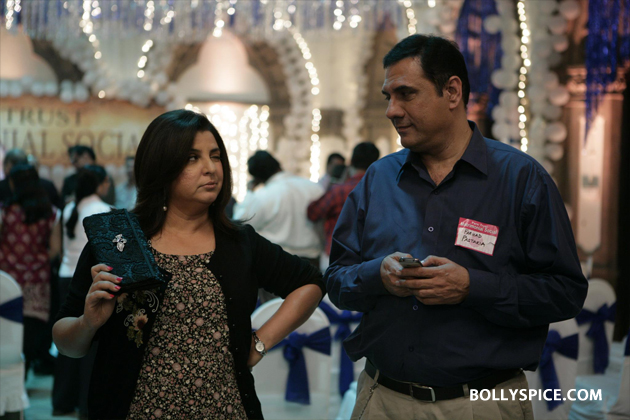 Listening to it that is really what the song feels and sounds like as if someone just jamming some great music.
Yes, exactly! Somebody is going bananas! Someone is in love and they just can't help themselves!! It is that feeling.
What do you think audiences will love about this film?
I think it is the whole fresh look at the Hindi film romance. I think they are going to love Farah Khan. I have to add that I think they are going to love the idea of Farah and I doing our little comedy, which again is a new take on comedy. Because you know one thing you never see in Hindi films, at least lately, is a female lead or heroine being so integral to the comic sequences. And that is strange. Really, the last two comic heroines we had were Juhi Chalwa and Sri Devi. Both are very funny and they have a great sense of comedy. No script has been completely devoted to a girl and a boy, or man and woman in this case, in a Hindi film to comedy. There is a lot of comedy, there is a lot of slapstick, there is a lot of spoken comedy, situational comedy and there is also the sweet comedy, so there is a whole gamut of comedy that is on display but we never really get to see a hero and a heroine participating in comedy together and feeding off each other. It is always the hero horsing around with his buddies or some overtly comic character who is invariably male. I don't quite recall in a long time of a hero and a heroine doing a full-length comedy and feeding off each other. And we are doing all forms the comedy, the sweet little romantic moments in comedy, the awkward comedy, there is the physical comedy and there is mistaken identity comedy, and it all works. 95% of the film is comedy.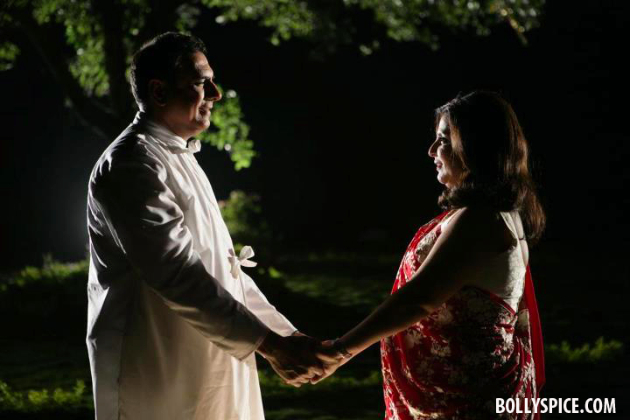 What excites you about being an actor?
An actor in many ways is like a superhero. He is Batman by night and a regular guy by day. He wears his cape and mask and he faces the camera and does larger than life things, which he is incapable of in real life. In real life, he is your Peter Parker or he is your regular guy. And the fun part is that you can play these roles and become normal again and get paid for it.
What will we see you in next?
My next release is ready, which is Jolly LLB with Arshad Warsi and Saurabh Shukla. It is wonderful. Then Delhi Safari is releasing, which is an animation film that I have lent my voice to one of the characters. Then I am probably doing Farah Khan's Happy New Year next.
I cannot wait to see the comedy, the chemistry and the romance in Shirin Farhad Ki Toh Nikal Padi and just hope in the end that Boman's Farhad does ride away with the girl! Shirin Farhad Ki Toh Nikal Padi hits theaters tomorrow!