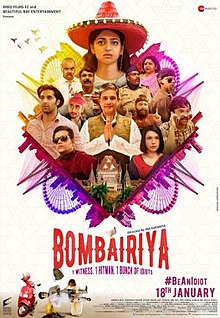 #BeAnIdiot is the final shot on the trailer for the new Radhika Apte movie Bombairiya. This is a black comedy which involves an accident, a stolen phone, a video and just a lot of mess that will be untangled over the time of this movie. While the rest of the cast may not all be star names, this film certainly seems to say 'interesting' in the tag line. Arko Mukherjee is its music director and he delivers a short 4 song album which can only enhance a seemingly endless number of plot twists and turns.
Arko takes the mic for the first song Sanki. An opening of slow club synth beats with Punjabi lyrics, this is a song to introduce a girl who knows herself and certainly isn't about to conform to someone else's stereotypes. A changeup half way to rap which is a mix of English and Hindi simply brings this modern woman into the modern world around her, highlighting her no-nonsense way of life.
The next song takes on a more traditional sound and traditional lyrics in Bairiya. Navraj Hans is brought in to sing a sad but not slow Punjabi traditional song for the masses. Backed by tambourine and a synth sound close to a shehnai, an almost waltz beat keeps this song going throughout a long trudge of sadness. No need for tissues or a hanky, but time for self-reflection is available.
Sajde Karoon involes Yasser Desai, Meraj Warshi and the Warsi brothers in what can only be described as a sufi. So traditional is this sound and its lyrics that it could easily be expected to be heard outside Haji Ali, one of the most famous mosques anywhere. While this isn't particularly interesting, it isn't really a sound that listeners expect to be played around with so in this case that's not a bad thing.
The last song is a return to Bairiya but this time with 2 voices and thus 20 seconds longer. Akriti Kakkar joins Navraj Hans for another look at this song, taking it to a properly sad level. Navraj delivers the same as he did for the earlier piece but its really Akriti who takes the spotlight with a pedal guitar giving her backing and takes this song to heart touching depths. While this is only a re-versioning of the original earlier in the album, it feels completely different on an emotional level.
In a story which seems to be focused on twists, the music in the album for the movie seems to be an interesting twist in itself. Taking out Sajde Karoon as it is what is expected, Arko has no real room to move, delivering 1 song in club beats and rap and the other 2 in sadness and self-reflection.
Undoubtably, this was the requirement as handed out by other members of the cinematic team and assuredly it serves a purpose within the film itself, but as an album it has nothing to offer a listener and stands as a sharp contrast to the teasers and trailers released for this film.