What better way can there be to celebrate '100 Years of Indian Cinema' than to bring the best and aesthetically diverse Bollywood directors together for one movie!?
Viacom 18 Motion Pictures and Flying Unicorn have done just that with 'Bombay Talkies' – a 80 minute film that is the amalgamation of four 20-minute short films directed by four directors – the trailer of which is all set to release at 6pm today.
Speaking on the Bombay Talkies collaboration Karan Johar says, "Bombay Talkies is to celebrate 100 years of Indian cinema. It has four directors – Zoya Akhtar, Anurag Kashyap, Dibankar Banerjee and myself. We are all making a 20-minute short film each. It is a different film and definitely what holds all these four films together is the passion for Indian cinema."
Each short-film has a distinct core and tells a different story.
Karan Johar's film deals with the lives of three individuals (Rani Mukherjee, Randeep Hooda and Saqib Saleem) and how their emotional baggage affects their relationships. Rani plays the role of a journalist and a sexually repressed wife in Karan's segment of the film which was shot in real locations in Bandra and Dahisar.  While Karan is happy with the outcome of the film, he is super pleased with Rani's performance as well as that of Randeep and Saqib.
Zoya's film revolves around the life of a little boy and stars Katrina Kaif along with two child actors. Speaking on the collaboration, Zoya says, "We (the four directors) had a lot of fun together. They're all my friends and though it was a nerve-wrecking process, the competition was healthy."
Dibakar Banerjee's film takes stalk of the life of a failed actor (played by Nawazuddin Siddiqui) and how he comes to believe that his life is a waste and failure too.  Speaking on this short-film, the versatile and eccentric Dibankar says, "This one has very little social subtext unlike my other films."
Completing the quartet is Anurag Kashyap's film that talks about the legendary Amitabh Bachchan and his home, Prateeksha. Anurag has shot portions of this film using hidden cameras at the Kumbh Mela. The director reasons that since his story deals with the life of a common man from Allahabad (where the Mela is held) who comes to Mumbai, these visuals will add a real feel to the movie.
Bombay Talkies, which will release on May 3, 2013 is sure going to be an unusual and definitely pleasing experience for all movie-goers.
Check out the first look poster and trailer below!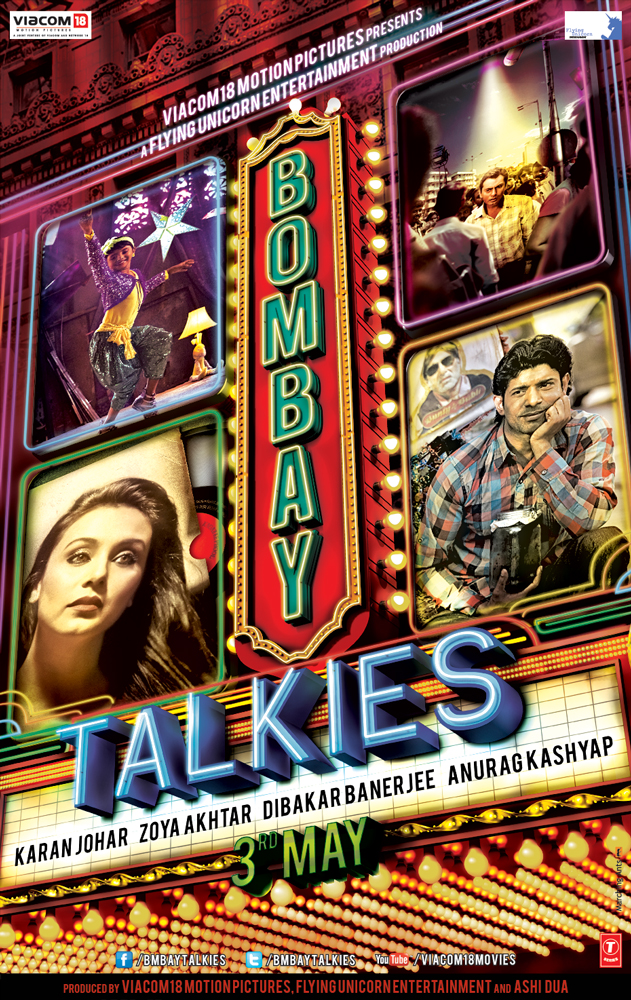 [jwplayer mediaid="56492″]