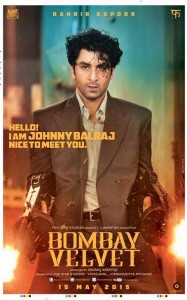 Gone With The Wink
By Subhash K Jha
Bombay Velvet
Starring Ranbir Kapoor, Anushka Sharma, Karan Johar, Satyadeep Mishra, Manish Choudhary, K K Menon
Directed by Anurag Kashyap
Smoke-filled hazy but hectic frames jostle for supremacy in Anurag Kashyap's most stylish film to date.
So far all his gangland gaathas were fiercely homespun. Unkempt unwashed immoral sods firing their desi guns in the sugarcane fields of the Indian hinterland. In Bombay Velvet Kashyap jazzes up his gangland theme, spruces up his act, sharpens his claws and emerges with a story of q hustler's rise to notoriety in the Mumbai …sorry, Bombay, of the 1960s.
The power of the gun is palpable. The ambience  of smokey nightclubs and messy shootouts on darkly-lit sinister nights is impeccable. We can almost touch the terror.
Feel the fear, then, as Johnny Balraj (Ranbir Kapoor) sets out to become a 'big-shot' in Mumbai after watching Raoul Walsh's gangster epic The Roaring Twenties. It is debatable whether a guy of Johny's sensibilities would watch a James Cagney film even if he was bored to death.
But then ambience is supreme in Bombay Velvet. Kashyap and his art director wants to cram in the westernized underbelly of Bombay's club culture in as much detail as the film's elastic  playing-time permits. The Bombay that's gone with the wink is recreated with awe-inducing diligence. Kashyap's Mumbaifrom the 1960s is as impressive as Dibakar Bannerjee's Kolkata of the 1960s in Byomkesh Bakshi.
The tram does the trick. Let's hear it for the boys who designed Kashyap's Bombay.
The characters jostle for a space in a way they often do in Kashyap's cluttered canvas riddled with bullet-friendly desperados. This is a jazzed upWasseypur where a lot of the inherent violence is diluted in  airconditioned cool spaces. That many of them leave an  impression, in spite of  the cramped 'civil' space, is a measure of their talent. The actors fill the canvas in this drama of the damned  never letting on that they are casualties of a constrained freedom.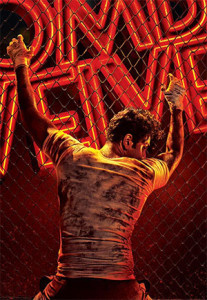 Throughout the painstakingly mounted narrative we can see the characters racing against time. The storytelling too seems frantic in its efforts to hold on to our attention. My sympathies to the film's editors whose struggle to give a coherent shape to Kashyap's nebulous Bombay is visible to the eye. Hence poor Raveena Tandon leaves the plot poorer for the lack of her presence.
While the incidental characters are left to build their world according to the abilities of the actors Kashyap focuses on the main plot, an intense volatile troubled and traumatic love story about a Goan singer Rosy (Anushka Sharma) and a street fighter Johnny (Ranbir) who woos her relentlessly and threatens anyone who tries to be nice to her.
And there are many who try. There is Manish Choudhary as a newspaper editor, all suited booted and self-importantly righteous in his type-written (period touch) exposes. And there is Vivaan Shah, endearing as Rosy's devoted driver. K K Menon as  a cop investigating the crimes suffers the most as he tries to make his presence felt by humming Geeta Dutt's numbers. While these characters stand out in spurts Satyadeep Mishra playing Johnny's buddy and right-hand man proves an indefatigable scene-stealer. Mishra is the kind of actor whom you notice even in the background.
But then this is not his story. Bombay Velvet is about Johnny and Rosy, their run on the wildside. Kashyap seems to enjoy watching the pair work out its destiny. Since the actors playing the two main characters ooze charm and charisma as though they went out of fashion in the 1960s the love story keeps you engrossed, if not riveted.
While Ranbir's Johnny Balraj suffers for its lack of novelty (we've seen everyone from Amitabh Bachchan in Deewaar to Ajay Devgn in Company play the migrant who makes it big in Mumbai through crime) and also for a haircut and accent that slips on and off like a whimsical condom, Anushka's Rosy has a far more interesting history. Kashyap shows her as an abused child looking to heal her hurt in her growing up years. Anushka portrays with telling transparency her characters broken interiors and fractured singing abilities(the jazz-styled club songs are awful, and intentionally so, I'd like to believe).
Anushka grows with every film.
But it's Karan Johar as  mainstream cinema's first non-virile villain who exudes an evil menace without resorting to hamming or grimace. Johar's tightly-wound character is like a time bomb ready to explode… it could be the explosion of unexpected giggles when faced with the naïve ambitions of Johhny Balraj, or it could be the steely determination to eliminate his enemies. Johar goes for the kill.
And yes Johar's chemistry with Ranbir Kapoor is delightful.
Bombay Velvet structures an intriguing pyramid of crime and conviction. Kapoor and Sharma ensure our attention doesn't flag even when the narrative decides to get tangential in its ambitions. There is way too much of weight regarding Bombay/Mumbai's real-estate history which worked well in Gyan Prakash's novel but seems like too much data-spamming in a film where the emotions need to be preserved from the didactic spirit.
There is so much happening in Bombay Velvet that you want to hold on to. Amit Trivedi's background score provides a marvellous healing touch, supportive rather than obtrusive, it complements the characters' feelings rather than create new ones. Rajeev Ravi's cinematography is sellbinding, binding, as it does, the ambience and the characters in an uneasy stormy marriage between two unequals.
Bombay Velvet for all its sins of excesses, is the gangster epic that Bollywood was waiting to unleash. Tactile, smokey, powerful, passionate and pulsating with periodicity, this movie is an experience that's more remarkable for what it attempts than what it actually achieves.
As Johnny Balraj would say, Kashyap chala big-shot ban-ne.