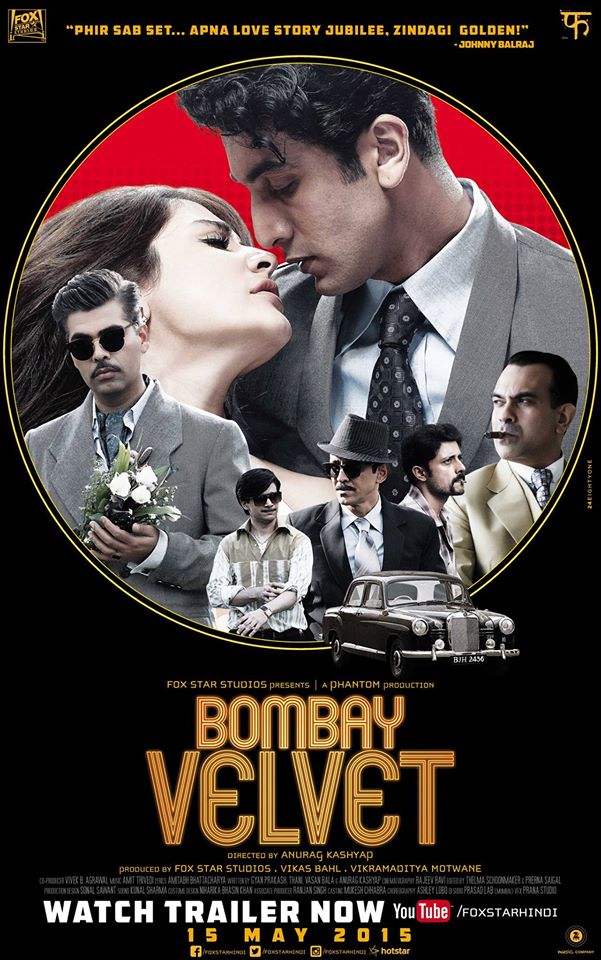 I'll preface this review with an admission: I played the clarinet in the school band for about two years, so you can understand why I fell so hard for the Bombay Velvet soundtrack as a band nerd. Anurag Kashyap's magnum opus takes the audience to 1960s Bombay, which is emerging as a metropolis that's teeming with gangsters, film journalists, femme fatales, and underdogs. Kashyap recruited Amit Trivedi for this fantastic album, that's as nuanced as it is danceable. Trivedi teamed up with The City of Prague Big Band, and Mickey McCleary for the album that merges jazz standards, classic Bollywood, and swing with such seamless ease.
The album starts off with the rollicking, Aam Hindustani, a 9-minute gem that hooks you in with a terrific prelude. From the opening clarinets that segue into the madcap horns and trumpets, Trivedi goes for the carnival-esque sound that would be right at home in the circus or a Charlie Chaplin film. Shefali Alvares is stunning here with her powerhouse vocals and scatting like a jazz champ near the end. Alvares has particular relish with Amitabh Bhattacharya's fun lyrics that situate us in Prohibition-era Bombay, "Pyar mein thenga, bar mein thenga." An absolute delight that you can savour.
Next is the catchy, Mohabbat Bhuri Bimari, which has three versions for the listener to enjoy. Version 1 is Mickey McCleary's take and he utilizes the brass band to full effect to create such a jaunty and fun song.  Shalmali Kholgade is terrific here, with her sultry drawling and nasal voice that makes this one my pick of the lot. If you want something a bit quieter, then Version 2 with Amit Trivedi at the helm and Neeti Mohan is your pick. Turning down the brass and horns, this version offers a more waltzing feel, especially with Mohan's lovely voice. Mohan is the star here with her seemingly improvised moments of scatting, hiccupping, and laughing. The song puts you right in the moment, as if you were listening to this live in a club. Version 3 gives you Shefali Alvares' take, which cuts the improvised feel and offers more of a straight rendition of the track that's much less peppy and energized.
Neeti Mohan continues her star run with Ka Kha Gha, which interestingly opens with a trumpet variation of "Arre Re Kya Hua" perhaps that's just me, but I love it all the same. The lyrics by Bhattacharya are swooningly romantic as sung by Mohan, who scats like a pro and infuses such emotion into the song. Whether it's growling alongside the horns or holding the high notes without ending up shrill, Mohan's versatility is on full display here. What a class act.
Prepare for a swoon-attack with Dhadaam Dhadaam, a stunningly composed gem that whisks you away with a dreamy violin opener to the saxophone solos that lace the track. Once again, Neeti Mohan is in top form, this time transforming into a torch singer belting out the high notes like Whitney Houston, and bringing that quivering sadness to the finale. Even if you're not a jazz fan there's so much to enjoy in Mohan bringing the aching sadness to Amitabh Bhattacharya's simple lyrics.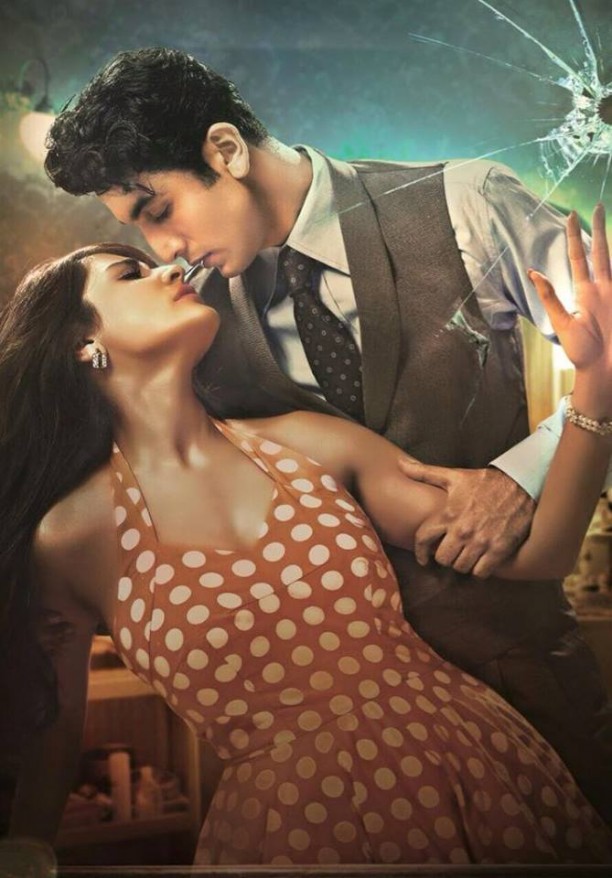 Naak Pe Gussa follows in the same jazz standard style with the rising tempo, breezy orchestration, but a little more flirtatious this time. The lyrics are lovely, and Mohan revels in that slinky and sultry register, which elevates it into a lasting romantic song.
Sylvia is a clever song that admonishes the Sylvia of the famous Nanavati murder case, which took the tabloids and Bombay high society by storm. Trivedi amps up the carnival-esque interludes from Aam Hindustani but gives his own stamp on an OP Nayyar style melody. The song instantly brings a smile to your face with its kooky horns that mimic a buzzing bee, or the cowbell chiming in, much like the comedy cowbell from "Hum The Wo Thi" from Chalti Ka Naam Gaadi. Mohan matches the jaunty track with her energetic vocals.
After surprising us with the fantastic ladies at the helm, Trivedi showcases another side of Papon in Darbaan. Papon's distinctive voice sounds right at home alongside the trumpet solos and sedate piano melody. However, it's the trumpet interludes that win you over, as they add a bit of zest to a rather plain jazz song.
Shefali Alvares is back with the peppy, Shut Up, which is the only weak spot of the album. Alvares does an admirable job in the beginning of the song, but tends to get a bit pitchy towards the end, when the orchestra almost threatens to drown her out. Apart from Alvares' vocals, the song ends up a bit of mish-mash of what it wants to be: a sedate jazz number or a big band gem? Skip this one.
Ranbir Kapoor and Mohit Chauhan have become inseparable as a hero-singer team, so I'm interested to see how Behroopia will be picturized onscreen as it's a modern number that could fit in any of Kapoor's recent films. Trivedi doesn't keep the jazz at bay, and embraces the trumpets and flute that lace the track. Chauhan and Mohan have an easy chemistry together and both seem to be at their seductive best.
Lastly is FIFI, which is another Mickey McCleary's remix of CID's "Jaata Kahaan Hai Deewane" with his perennial favourite Suman Shridhar. The pair worked wonders with Hawa Hawaii and Khoya Khoya Chand for Shaitan, and FIFI is no different, an absolute party jam. Sridhar's baby voice works well in conjuring up a slinky 1920s sound, which makes me want them to pair up to do an electro-swing album like Parov Stellar. Keep this one on repeat.
The three remaining instrumental tracks are equally as impressive. The Bombay Velvet Theme features a haunting oboe melody that segues into the usual thriller sounds of heavy guitar riffs and pulsating horns. The next one is Conspiracy, a piece that's likely to be placed at some tense moment with all the cascading strings, and foreboding oboe. Tommy Gun has a bit of an edge over the rest with its arresting drum solos, that gives you a bit of whiplash along the way.
Bombay Velvet is definitely one of 2015's best soundtracks of the year for its sheer innovation and attention to throwback details of jazz, big band, swing, and classic Bollywood sounds. It's also a glimpse of Amit Trivedi operating at his peak by inverting the classic sounds of 1960s music and making it his own tune. All of these songs are bound to grow on you, if anything just marvel at how Trivedi and McCleary bring out the versatility and style with their gang of girls: take a bow Neeti Mohan, Shefali Alvares, Shalmali Kholgade, and Suman Sridhar.