Akshay Kumar has an amazing new record! He is now in the Guiness World Book of Records! And it is all because of his cool fans!
For his upcoming film 'Boss', his fans who call themselves 'Team Akshay', swung into action and managed to create a special poster for his film (size 58.87m wide and 54.94m high) that turned out to be the largest in the world. The poster, that took 7 months to build, was unveiled on October 3! What is so cool is that it broke the record for the largest poster and is now a Guinness World Record holder. It now listed on the Guinness World Book of Records website!
"It's a great feeling to be breaking a record formerly held by 'The King of Pop' Michael Jackson! I am grateful to my fans for this unique gesture which speaks volumes about their eternal love and support. God bless them all. I thank everyone who made this possible," says Akshay Kumar.
A special event has been planned in Mumbai on 15th Oct 2013, where all Akshay Kumar fans are invited to launch the poster, the event will also see the Guinness World Record officials handing over the certificate to the BOSS.
Akshay also wrote on his Facebook page, "A humbling experience to be a part of the world's largest poster. Thank you for the love. #BOSSonWorldsLargestPoster"
Ashwin Varde, the producer of BOSS, said in a recent interview about the cool achievement, "The earlier record was held by none other than Michael Jackson. The poster of BOSS has beaten that record. Every Indian should be proud of this achievement."
The poster measures 58.87 m (193 ft 1 in) wide and 54.94 m (180 ft 2 in) high. The poster is to advertise the release of the Bollywood movie "Boss" in Mumbai and Delhi. It is made out of mesh PVC and took 30 hours to print. It weighs about 1.4 metric tonnes (3,086 lb) and requires a team of at least 10 people to unravel.
Check out the official certificate!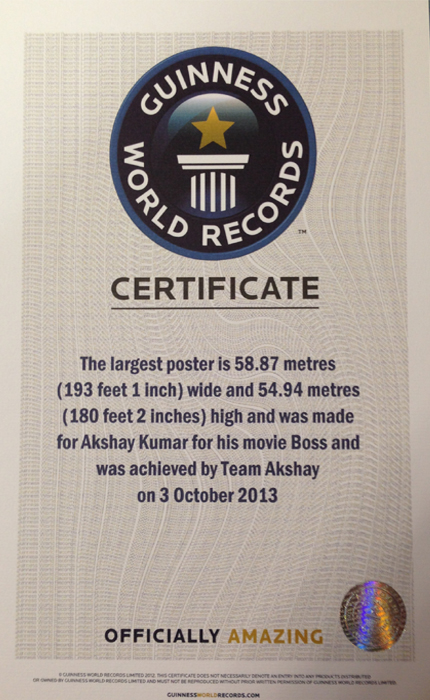 And the poster! SIMPLY AMAZING!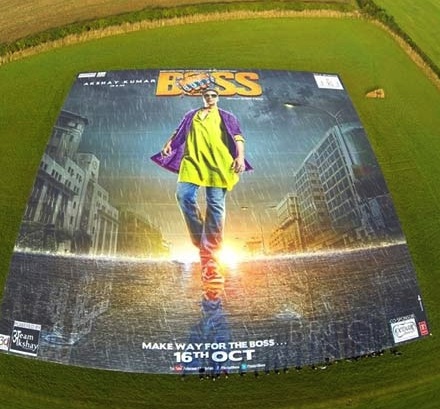 'BOSS' is an action comedy, produced by Viacom18 Motion Pictures, Cape of good films and Ashwin Varde Productions. BOSS is scheduled to release on 16th October.