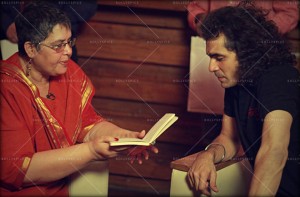 Last Sunday was yet another brilliant evening as renowned entertainment journalist Indu Mirani spoke to Imtiaz Ali in the 7th edition of Boss Dialogues. The otherwise quiet Imtiaz made us laugh, spoke about his journey in the industry so far and more dearly about his films that have made him one of the most loved directors of today.
The discussion began as he spoke about his childhood and his dreams. "I somehow always saw myself as a secret service guy or a novelist. I liked writing," he said. Did you know that Mahesh Bhatt was the first one to ask him to make a film? "He is such an amazing person. He was the one who recognised me when no one did," he smiled. Speaking about his first film Socha Na Tha, he said that he had written Socha Na Tha for television. "I was actually writing Highway before Socha Na Tha and I intended on having the latter for TV, but it eventually got made as a film," he added.
Imtiaz is assumed to have knowledge of romance and relationships because of the different kind of love stories that his films reflect, to which he amicably says," I have no idea about romance and relationships and that is what I explore in my scripts. I don't use the word L.O.V.E!" He also gave a little piece of advice to aspiring filmmakers who look up to him and said, "The Bombay film industry is a beautiful place to work. Just don't get on the side of complaining and you will be fine. The day you start cribbing and complaining, you know it is time to change your profession."
About Boss Dialogues:
The Boss Dialogues is a series of 'Dialogues' in the form of informal one-on-one conversation with personalities from the world of Media and Entertainment. The series that started couple of months back with the youth icon Farhan Akhtar, had filmmakers Farah Khan, Kabir Khan, Karan Johar, Shekhar Kapur, Ayan Mukerji and most recently Imtiaz Ali take to the seat for a tete a tete led by renowned entertainment journalist Indu Mirani. The event attempts to offer an in depth view into the celebrity's personality, creative process and their body of work. The one-hour discussion is tailored to create intelligent, meaningful dialogue. The interactive second half invites the audience to engage and debate with personalities that they will have exclusive access to.
Hosted in suburban Mumbai once a month, the event is open to public on a first come basis, once the details are announced on the events FB and Twitter pages.
(Picture credits: Thebossdialogues.com)