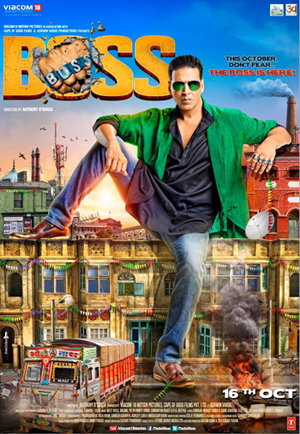 Blue director Anthony D'Souza doesn't seem to have been disheartened by the lack of overwhelming response for his debut film, as he returns in full force with his second project, Boss. Akshay Kumar and Anthony pair up again for the remake of Malayalam film Pokkiri Raja. Releasing on the 16th of October, Boss boasts of a supporting cast consisting of Shiv Pandit, Aditi Rao Hydari and Ronit Roy. Music of the film has been creating much hype courtesy of the ultimate hype creator, Yo Yo Honey Singh who contributes not one but two tracks to the album. Read on find out how the rest of the album by multi-composer and multi-lyricist team fairs.
The title track you've probably already grown accustomed to, courtesy of its multiple rounds on music channels both on TV and radio. Composed by trio Meet Bros and Anjjan (Mere Nishaan (OMG) & Zanjeer) the track has it all to get you tapping to it in no time. Yo Yo Honey Singh's rap is well…Honey Singh's rap! It is exactly what you expect from the singer. However, it would be fair to say that the highlight of the track is not Honey Singh for once, but the Meet Bros Anjjan trio who do the vocals for the track also. Kumaar and Yo Yo Honey Singh come together to pen the lyrics of this one. It's the classic hero-introduction track that oozes style in abundance. Definitely a crowd pleaser. Tradition and trend dictates there be a remix version so of course there is one.
Up next is perhaps a somewhat controversial track, Hum Na Tode composed by first time composer but Grammy winning mixing engineer and music producer, P.A. Deepak. Vishal Dadlani lends his voice to this remake of popular Tamil song Apdi Pode Pode from Ghilli, composed by the very acclaimed, Vidyasagar. Quite a bold step to go ahead with a remake of a song so popular that its presence till date is felt in both the South and North. Luckily P.A Deepak pulls it off. Perhaps the smartest move was to get Vishal Dadlani involved in the track because he nails the genre and style. Considering he's dabbled and excelled in a similar style in 1234 in Chennai Express, it was expected he'd do well in this one too. Kumaar who tends to go overboard with the 'crazy' in his lyrics surprisingly keeps it in check and pens a very clever/humorous song. The song to a large extent keeps the composition rooted in its South Indian origin, which is probably why it works.
After two tracks that suffer from a serious case of ADD, the album takes a much-needed sober turn with Meet Bros Anjjans' second composition for the album, Pitah Se Hai Naam Tera. Sonu Nigam shines in the quasi-qawali. It is a quasi-qawali because whilst the chorus is heavily influenced by the Qawali style of music, the individual verses are very contemporary in nature. If you don't mind slightly preachy lyrics and hanker for grandiose filmi track which has multiple genres and a dramatic dhol-filled conclusion, then definitely try this one. Kumaar surprises, pleasantly, with the lyrics. Truly a feat of versatility by the composer trio who just gave us a track like 'Boss' and now deliver something in a completely new style and that too very successfully.
All the Desi-pan goes out the window with the next track when Yo Yo Honey Singh returns in an unadulterated version of his style of music. Party All Night is an out an out club number and doesn't pretend to be anything else, be it with its music or its lyrics. It would be wrong to say that the basic beat doesn't get a bit annoying because it is on a constant repeat in the background. Credits for lyrics of this one goes to Sahil Kaushal and Lill Gollu.
One thing you won't be saying about the album is that the tracks are predictable. After the club number we get another remake in the album, this time its Har Kisi Ko Nahi Milta from Feroz Khan's Janbaaz (1986) which was originally sung by Mannhar Udhas and Sadhana Sargam and composed by the great Kalyanji Anandji. (Trivia: it is debated that the KA track was inspired from MJ's Thriller). Nikhil D'Souza (Alvida – D-Day) delivers the soft-rock number with complete ease and makes the track an instant favourite. Equally impressive is the second version of the track included in the album which is rendered by Arjit Singh (Raabta – Agent Vinod, Dua – Shanghai, Kabira – YJHD) and Neeti Mohan (Jiya Re Jiya Re – Jab Tak Hai Jaan). A final shout-out for the brilliant words has to go out to lyricist Manoj Yadav.
Sonu Kakkar comes in next with Khusboo Grewal and Meet Bros for the Boss Entry Theme. The track isn't much to right home about but definitely packs in all you expect from an 'entry theme music', which is surely to take the scene to another level.
All in all Boss not only delivers great tracks that will keep the music channels and club DJs busy but also delivers tracks that is sure to strike a chord with the more serious music lovers. Har Kisi Ko Nahi Milta, both versions, are without a doubt the highlight of the album however nonetheless the other tracks impress quite a bit. Apart from the Boss remix there really isn't one track that you'd warn someone to 'next' when it comes on their iPod and that in itself means that the musical team of the album has done their job right. Definitely a must listen!