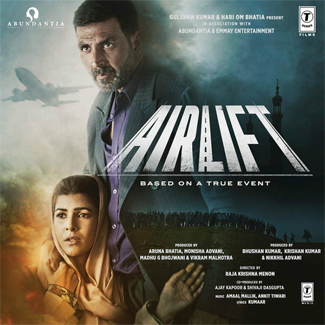 Airlift is continuing its record spree. The film had another good day at the office on Tuesday and brought in around 1 crore* more. As a result, the collections now stand around the 122 crore* mark and with this, the Raja Menon directed film is now officially the BIGGEST Republic Day weekend release ever. In the process, it has gone past the biggest so far, Agneepath.
This is how the Top-5 Republic Day weekend releases stand:
Airlift [2016] – 122 crore* [Still running]
Agneepath [2012] – 120 crore
Jai Ho [2014] – 115 crore
Race 2 [2013] – 100.45 crore
Baby [2015] – 95.5 crore
The point to be noted is that each of the other 100 crore grossers is an out and out mainstream commercial entertainer. Hrithik Roshan's Agneepath was the remake of the cult Amitabh Bachchan film. Salman Khan's Jai Ho released at the time when the superstar was churning out centuries at will. Saif Ali Khan, Anil Kapoor and John Abraham's Race 2 was the sequel to much loved Race.
The only other biggie in this list (albeit not a 100 crore affair) is an Akshay Kumar starrer, Baby, and that again belonged to the niche genre. This does convey quite well that Akshay Kumar has reserved for himself on this date, and that too with films that aren't conventionally commercial.
Airlift is still in the running and heading towards the 130 crore mark.
So far, there hasn't been an announcement of an Akshay Kumar starrer for Republic Day weekend of 2017. However, it won't be surprising if it does happen in quick time, owing to the fact that just like Khans have Eid and Diwali for them, Republic Day now pretty much belongs to Akshay Kumar.
* Final numbers awaited
Note: All collections as per production and distributor sources