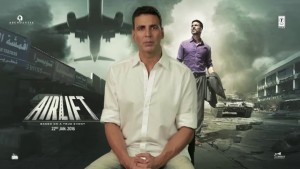 There was quite some surprise in store when Airlift collected more on its 15th day when compared to the 14th day. Despite the release of Ghayal Once Again and Sanam Teri Kasam, the film didn't see a slide in collections on Friday. The trend continued on Saturday and Sunday as well, what with the film continuing to mint moolah. As a result, 8.5 crore* more came in the third weekend.
With this, the film has now collected around 121 crore* at the Box Office in 17 days. These are very good numbers for the film and the weekend trend has ensured that the lifetime total would be around 130 crore.
As for the records that have already been broken, the Akshay Kumar film has now left behind Holiday (113 crore) and Housefull 2 (116 crore**).
This is how Akshay Kumar's biggest films are currently placed:
Holiday (2014) – 113 crore
Housefull 2 (2012) – 116 crore
Airlift (2016) – 121 crore* (still running)
Rowdy Rathore (2012) – 133 crore
With director Raja Menon, Akshay Kumar has now delivered his second biggest grosser till date. It is interesting to note that his biggest film so far is an out and out 'masala' flick while the one next to it is his most niche success in a career spanning 25 years. In a matter of less than four years, Akshay has managed to accumulate an altogether new fan-base for himself. Now in addition to gentry, he has class segment to cater to as well, which brings in an altogether new dimension to his career.
* Final numbers awaited
** Last week, it was erroneously stated that Housefull 2 collections were 106 crore. These are actually 116 crore.
Note: All collections as per production and distributor sources