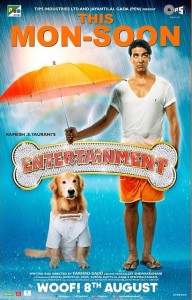 After a decent weekend, Akshay Kumar's Entertainment held up well during the weekdays as well to enjoy some good moolah coming in. As mentioned in this column earlier, since this Sajid-Farhad film is a family entertainer, it was always expected to find patronage over a period of time instead of finding quickfire audience flow. This is exactly what happened as children developed a liking for the comedy and made sure that their parents followed suit too.
All of this meant that over 56 crore came for the film in its first week with good contribution coming in from single screens and multiplexes across A, B and C centers. The film now enters its second week and it would be interesting to see how it holds up over the four day long weekend where audience would now enjoy a double bill with Singham Returns releasing too. Yes, the Ajay Devgn-Rohit Shetty combo is expected to take a huge opening, and that is well deserved too. However, in the past too two films have done well while running in parallel and with Entertainment and Singham Returns belonging to diverse genres, there are good returns pretty much on the cards for Bollywood this week.
Personally for Akshay Kumar, there has been all around positive feedback that has come his way, hence making him an undisputed superstar who has been dabbling with diverse genres and finding audience. From Holiday to Entertainment, it is as different as it gets and now with Gabbar and Baby as his next, there should be some more entertaining times ahead at the very beginning of the New Year.