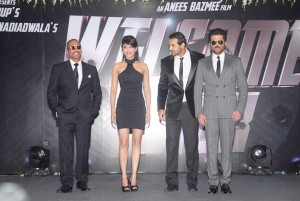 Now this is what makes Box Office so unpredictable in a few cases. Ok, so for 90% of the Bollywood flicks you pretty much know how audience would turn up. However, it is the verdict on the remaining 10% which makes it so interesting for trade and industry in general. This was last evidenced in the month of May when Bombay Velvet had turned out to be a much bigger Disaster than what one had anticipated even in the worst case scenario.
Now Welcome Back has done just the opposite. It has managed to take a fantastic start and turned out to be much bigger than what even the most hopeful would have predicted.
The first surprise came on Friday itself when the Anees Bazmee directed film went on to collect much more than the upper range that was predicted (12 crore) before release. With 14.35 crore coming in, the stage was set for the Firoz Nadiadwallah produced film to make merry. Later, the momentum continued on Saturday (17.05 crore) and Sunday (19.6 crore) as well, hence bringing in 51 crore. In the process, the film has now enjoyed another huge weekend scores of the year for Eros after Bajrangi Bhaijaan.
The multi-starrer with Anil Kapoor, Nana Patekar, John Abraham and Paresh Rawal has managed to find a very solid footing for itself and now it is time to consolidate. Since this is an expensive affair, the collections need to be steady right through the weekdays as well, and then spill over well into the second week as well to get into the profit zone. Considering the fact that Eros has been enjoying a superb year so far (Bajrangi Bhaijaan, Tanu Weds Manu Returns, Badlapur, NH10), it is expected that their Midas touch would do wonders to Welcome Back as well.
Joginder Tuteja tweets @tutejajoginder