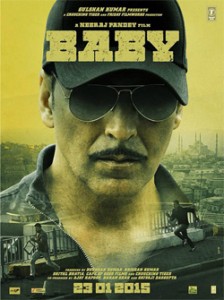 In the week gone by, it was Baby again that dominated the box office. The power of good word of mouth has helped the Akshay Kumar starrer not just sail through but also ensure that collections have held fort quite strongly right through the second week. With over 20 crore coming in, the film has collected more than 84 crore and is now just 16 crore away from the century mark. Though it would be pretty much a touch and go, given the fact that there is competition from Shamitabh in the third week, this Neeraj Pandey film has shown enough sustaining power so far and hence to hit 100 crore is not impossible now.
Meanwhile Khamoshiyan stayed low during the weekdays and yet again the costs have proved to be savior, just as is the case with many a Bhatt affair. With around 11 crore coming in the first week, the film would manage recovery due to other rights (satellite and music) helping its cause as well. The Bhatts would now move on to one of their most ambitious films till date, Mr. X, which also marks the comeback of Emraan Hashmi-Vikram Bhatt 'jodi' after Raaz 3. The film is already being awaited and should be a big ticket affair for all involved.
However, Hawaizaada has proved to be a massive disappointment commercially, what with just over 3 crore coming in after the first week. As things stand today, this is where the collections would come to a halt as it is no more in the running in the second week. Though it is disheartening indeed for Ayushmann Khurranna, he has reasons to smile as Dum Laga Ke Haisha is now being readied for release and Yash Raj Films is expected to give it a good push en route 27th February arrival.
There wasn't much going for Rahasya though which, despite getting some of the better reviews of the season, went totally unnoticed due to zilch promotion, marketing and release.