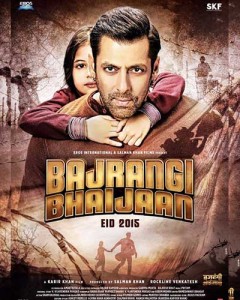 Bajrangi Bhaijaan continued to gallop in the second week as well with terrific numbers coming in day after day. There was hardly any 'drop' per se even after the second weekend and though Wednesday and Thursday were in 6-7 crore range, this was still huge enough as not many films this year have registered this number even on the opening day.
As a result, the film now stands at 273 crore mark and it is just a matter of two more days before Dhoom 3 lifetime record of 284 crore would be history. The game has become bigger for the Salman Khan starrer and while 300 crore is a given now, it has to be seen how much further does it go from here. That said, the lifetime record of PK [338 crore], looks quite difficult now. Still, Salman, Kabir Khan, Kareena Kapoor Khan and Eros would now be a part of 300 Crore Club, which is a huge deal indeed.
Baahubali too has been doing quite well and continued to bring in moolah in the third week. Standing at 92 crore currently, it would most certainly hit the 97-98 crore mark, though by some stroke of luck it may well touch 100 crore as well. With Bajrangi Bhaijaan as competition on one side and new Hindi release Drishyam on another, this S.S. Rajamouli film has still broken records in a huge way and that too entirely on merit.
Meanwhile, Masaan and Aisa Yeh Jahaan were crushed with such mighty all around competition from commercial films. At least former got some appreciation but eventually, its fate would be relegated to award functions next year.
Joginder Tuteja tweets @tutejajoginder