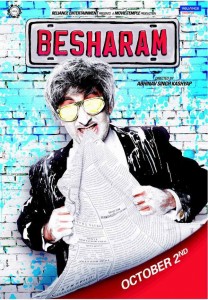 With a lot of hype supporting it, 'Besharam' is expected to open quite well at the box office. While Ranbir Kapoor factor should be the single most driving factor for the film, the very fact that it is coming on a National holiday will give further boost to its collections. Moreover, it is being released on a screen count more than 'Chennai Express', the biggest of them all, which means there is huge market open out there for this Abhinav Kashyap film to explore.
On the flip side, there would be an instant comparison coming into play as well. On the first day of its release, 'Chennai Express' had netted over 33 crores at the box office. Though it would be too much to expect for 'Besharam' to come anywhere close to this number, the least it would have to do is cross the 20 crore mark at the box office so that Ranbir's last record of 'Yeh Jawaani Hai Deewani' is eclipsed. While this is a bare minimum expectation from 'Besharam', ideally the film would be looking at scoring around the 25 crore on the first day, given the aforementioned factors pertaining to release size, hype and holiday factor.
The film is all set to score heavy as the weekend comes to close since it enjoys a five day long stay till the weekdays begin. What goes against it is an average response to the songs and the promos though. Given the 'masala' flavour of the film, the least that 'Besharam' would have to fetch is at least 100 crore at the box office. In a way, this also establishes the super-stardom of Ranbir Kapoor since other than the Big-Six (five of them being around for over two decades each and Hrithik being there for more than a decade), no other young actor comes with such baggage of expectations.
No wonder, 'Besharam' is going to be the real test for Ranbir.
Joginder Tuteja tweets @tutejajoginder