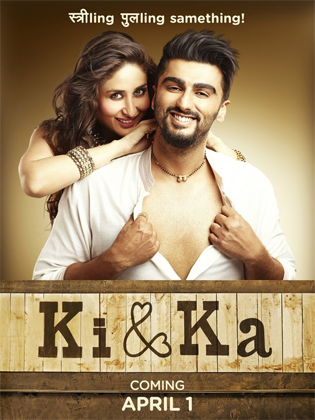 Ki & Ka has turned out to be a winner at the Box Office. The film has collected 25.23 crore over its weekend, and with this it is now set to be a comfortable success. Made at a budget of 30 crore (including P&A), the film had already recovered around 15 crore through satellite and other ancillary rights. With only 15 crore needed to be recovered through theatrical sales, the film would be in a green zone in a couple of days itself, and then begin to register profits.
Good cost and packaging by Balki and smart marketing and release by Balki has ensured that the film turns out to be a win-win situation for all. Of course, this was a risky subject to be made and the film could have gone either way. However, audience has given a nod of approval to the film and liked it much more than the critics, many of whom had settled for average reviews.
The film has scored the third highest weekend of 2016:
Airlift – 44.3 crore
Kapoor & Sons – 26.35 crore
Ki & Ka – 25.23 crore
Ghayal Once Again – 23.25 crore
Neerja – 22.01 crore
Wazir – 21.01 crore
The film should now remain steady during the week and even a 50% standard fall should allow it to register good numbers. April has started well with the Kareena Kapoor Khan and Arjun Kapoor starrer, and it would be interesting to see the kind of eventual collections that come in for Ki & Ka.
Meanwhile, Kapoor & Sons brought in 4.5 crore more over the weekend and now stands around the 69.5 crore* mark. Superhit.