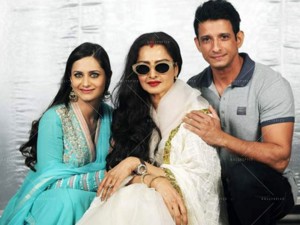 As it happens in the weeks surrounding biggies, there are no major films that arrive due to unavailability of screens as well as the fact that it is tough to catch audience's attention. It is a repeat of the same story this week, what with
Super Nani
looking at making an impression this week. The film is Rekha's comeback affair but surprisingly, the lady hasn't really made much noise about it so far. The first promo met with an ordinary response and the promotion since then has been low key too. This is surprising since the man calling the shots is Indra Kumar whose last release
Grand Masti
was a 100 crore success.
The film has been delayed by quite a while and though the basic premise is quite interesting (the original play on which it is based was a big hit too), the publicity has been barely just okay. This is one film that would totally depend on word of mouth, though that too would have to be pretty quick as next week would see the release of The Shaukeens.
Another release of the week is Roar – Tigers of Sunderbans and this too is a comeback affair as Kamal Sadanah would be returning to the big screen, albeit in the capacity of a director. The film's first promo had made a good impression while it has managed to find some good attention from exhibitors too. An adventure-thriller, it promises to be a good big screen watch and though it isn't set as the kind of film that manages to make instant moolah on the basis of first promo, it could well do better with word of mouth.