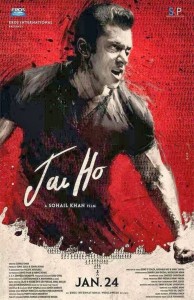 Opening day collections (33 crore) of 'Ek Tha Tiger' stay on to be the highest ever for Salman Khan. However that was on a holiday release. Later, his 'Dabangg 2' released on a non-holiday and 22 crore came in. Now more than a year later arrives 'Jai Ho' and rest assured, these numbers should be ideally surpassed on Friday. As a matter of fact, it seems practical enough that 25 crore would come in, though anything in the vicinity of 30 crore would be too much to ask.
The film had seen some good increase in buzz and hype during last fortnight especially. Moreover, Salman is going all out to enhance its visibility across all platforms, hence making sure that there is a lot more being heard and seen about 'Jai Ho' than ever before. All of this means that for hardcore Salman Khan fans there is a lot in the offering, which means especially at single screens, the film would take a very good start and anything over 80% is pretty much on the cards.
On the other hand owing to huge release that Eros has planned for the film, multiplexes would be pretty much flooded with the prints at almost all available screens. This means that with over 20 shows a day per multiplex, even an average opening of around 60%-70% (which is on the cards) would be good enough to result in a substantial sum over the weekend.
While sixth successive 100 crore earner is a given for Salman Khan, it would be interesting to see the kind of progress it makes to beat 'Dabangg 2' collections of 150 crore. As for the dash towards the 200 crore mark, it would all boil down to the eventual content put together by director Sohail Khan.
Joginder Tuteja tweets @tutejajoginder