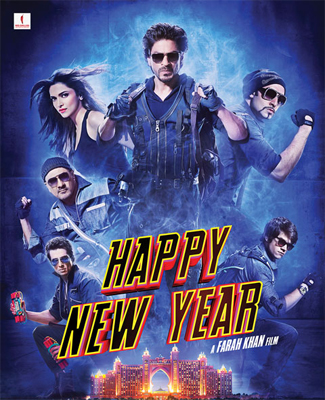 The week gone by was again dominated by Happy New Year and the film settled down reasonably well. Due to patronage from family audience, it first saw good momentum building up towards the weekend which was healthy indeed. Later, with Tuesday and Thursday being holidays in many parts of the country, the film got further addition to its collections, hence finding a much better box office standing for itself.
As a result, the film has now netted around 193 crore which is a very good number at the end of second week. The only other film that has managed collections in this range in 2014 is Kick and though Happy New Year won't surpass the box office total of the Salman Khan starrer, it would now cross 200 crore for sure. In fact it is pretty much expected that the feat would be achieved in the third weekend for the film.
With this, Shahrukh Khan has kept his record intact of back to back successes. The good run of Happy New Year is all the more credible since many had tried to pull the film down not just on its day of release but when it was embarking on a record weekend. Still, even though the reviews were not kind for Farah Khan and her film, the very fact that it is now the second highest grosser of the year makes Happy New Year sit tight at the top.
Meanwhile last week's release Roar – Tigers of the Sunderbans hung on and managed collections in 7-8 crore range. The film could have done even better if not for competition from Happy New Year that was obviously the first choice by a long distance. The good part is that the Kamal Sadanah film has been noticed for the attempt it has turned out to be and the kind of effort that has gone into it. On the other hand Super Nani didn't see anything going in its favor after an uneventful weekend, what with the weekdays taking it just close to the 3 crore mark. The film is no more in the running in the second week.