The fast, furious and raucously funny, coming-of-age comedy Brahman Naman will have its European Premiere at the 70th Edinburgh International Film Festival, as part of the World Perspectives strand, ahead of debuting to a global audience on 7 July, exclusively on Netflix.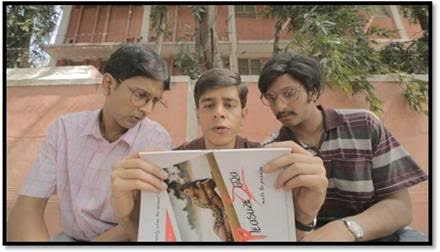 EIFF Screenings
Monday 20 June, 18.15 – Cineworld Edinburgh (European Premiere)
Tuesday 21 June, 20.30 – Filmhouse Edinburgh
*Brahman Naman will be in competition at the 70th Edinburgh International Film Festival for The Award for Best International Feature Film*
Written by Naman Ramachandran and produced by Steve Barron and Celine Loop, Brahman Naman is directed by leading Indian indie director Q, following Gandu, Tasher Desh and Ludo. Brahman Naman stars Shashank Arora as Naman, Tanmay Dhanania and Chaitanya Varad as his sidekicks, and features Biswa Kalyan Rath, Vaiswath Shankar, Sindhu Sreenivasa Murthy and Sid Mallya.
About Brahman Naman:
Set in Bangalore in the 1980s, Brahman Naman follows the exploits of Naman, a quick witted, high school quiz champ who leads his hopelessly nerdy friends on a trip to Calcutta to win a major college prize. Young, smart and full of heart, the trio are determined to win the quiz – and to lose their virginity along the way.
Check out the teaser video and date confirmation here: