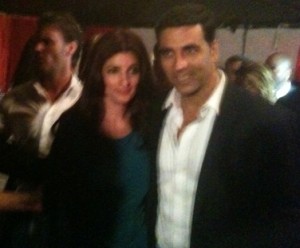 Things in Toronto are definitely heating up with the arrival of its most anticipated annual event the Toronto International Film Festival (TIFF). Compared to previous years the South Asian presence at TIFF has become even more remarkable and BollySpice was there to bring you all a piece of the action!
The party kicked off on Friday night, day before the premiere of the Indo-Canadian biggie Breakaway (aka Speedy Singhs in India). Leave it to producer Bollywood star Akshay Kumar to leave no stone unturned in ensuring the film gets a resounding reception at TIFF by throwing a party like no other at MUZIK night club.
The celebrities descending upon Toronto in a fantastic flurry, ranging from Canadian sensation Josh to UK favourites RDB. Other popular South Asian artists such as Jassie Sindhu, Bohemia, H-Dhami and Veronica came out in full support of the film's release.
Director of Breakaway Robert Lieberman arrived along with his wife and son and also an optimistic outlook on the film. "I am so enthusiastic to be screening the film in front of an audience tomorrow. We had an industry screening this morning and it went very very well." Lieberman was also very grateful for the honour of being selected as a TIFF film. "It's a particular honour to have my first Canadian film as a Canadian director honoured at a Canadian film festival."
The glamour quotient would not be complete without the presence of a few big-name stars. Rap legend Ludacris made his way into the venue to show his support for the film where he not only makes a cameo but also has collaborated with RDB on the track 'Shera Di Khom'. Last but not least was Akshay Kumar himself alongside beautiful and talented wife Twinkle Khanna, who caused an uproar everywhere they went. The golden Bollywood couple looked stunning and extremely excited for the film's imminent release.
Inside the venue, the audience was treated to a number of outstanding performances by Josh, H-Dhami, Veronica and Bohemia. One of the major highlights was Jassie Sindhu performing his tracks from Breakaway, 'Veer da Viha' and 'Rail Guddi'. To say that the crowd was in love with his bhangra performance would be an understatement.
Russell Peters, who plays a great comedic role in the film, entertained the audience by showing off his own DJ-ing skills. It was impressive to watch the world-renowned comedian spin some beats. Next up was lead actor Vinay Virmani who dazzled the crowd with his dance moves and proved why he is being touted as "the next best export from Canada".
Last but not least, RDB took to the stage and enthralled us all with their renditions of 'Shera Di Kaum' and 'Sansar' from the film's soundtrack. Every member of the audience – whether or not they were Punjabi or Indian or even familiar with bhangra music – was on their feet.
Director Lieberman puts it best when he says, "I think [Breakaway] captures the heart of this country. Not just in the sport of hockey, but the heart of a very diverse cultural nation." With such a strong an relatable selling, I am certain Breakaway will be a rousing success!