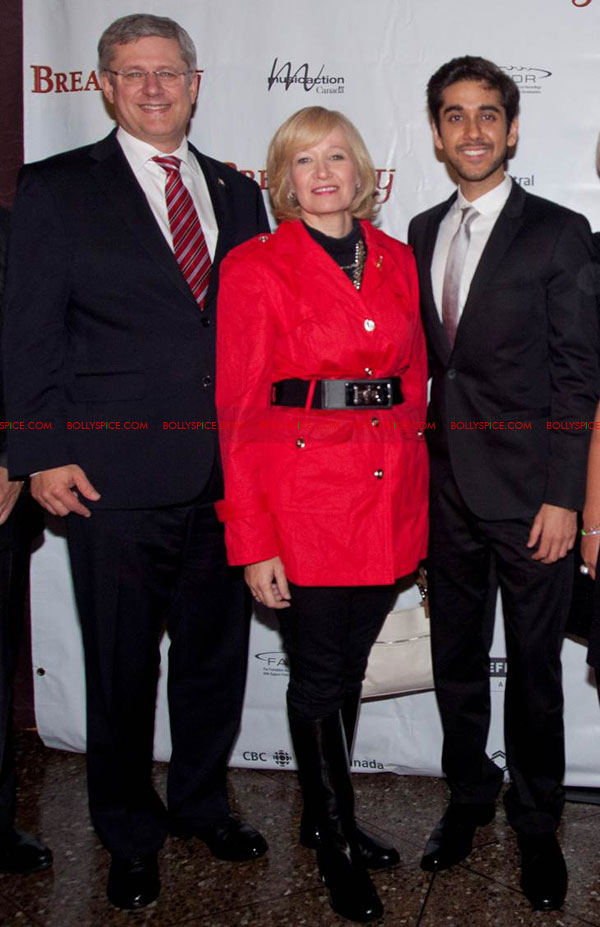 The Right Honourable Stephen Harper, Prime Minister of Canada, as well as MPs, senators and other parliamentary dignitaries, attended a special screening of the feature film Breakaway in Ottawa yesterday evening, October 3, 2011. The film received an extended and enthusiastic ovation from the 800 or so guests, including the High Commissioner of India to Canada, MPs and senators. Last night's presentation of Breakaway followed on the heels of its successful opening weekend in Canadian theatres, where it took in more than $550,000 at the box office.
"This bodes well for the film's career," says Carolle Brabant, Executive Director of Telefilm Canada. "This double triumph shows that Breakaway has all it takes to delight audiences, including a fantastic storyline that revolves around hockey—a passion of Canadians—as well as outstanding actors, among them the excellent Vinay Virmani, who co-wrote the movie and stars in the lead role.
"Telefilm congratulates the entire team behind Breakaway, including director Robert Lieberman and producers Akshay Kumar, Ajay Virmani, Frank Siracusa, André Rouleau, Russell Peters, Clayton Peters and Don Carmody, for this wonderful movie that succeeds in terms of its skillful narrative and musical soundtrack. Our organization regularly participates in film screenings in Ottawa as a way of highlighting Canadian cultural success stories. In keeping with our most fervent wish, Breakaway is a movie that is sure to stimulate audience demand for Canadian content."
Breakaway is a funny and touching film about cultural integration. It tells the eventful story of a young Sikh-Canadian man in Ontario, who, despite his strong belief in traditional family values, wants to become a hockey star. "This film is like our great country, it celebrates our differences as well as reflecting the Canadian immigrant story, in an entertaining way that is moving audiences all over the world. I truly believe this film only could have been in Canada. The way this country supports its arts and young filmmakers is truly remarkable," says Vinay Virmani.
Breakaway is presented by Hari Om Entertainment and produced by First Take Entertainment, Whizbang Films, Caramel Films and Don Carmody Productions. It is distributed in Canada by Alliance Films, and stars Vinay Virmani, Russell Peters, Anupam Kher, Gupreet Chuggi Singh, Sakina Jaffrey, Noureen Dewulf and Rob Lowe, with Camilla Belle. Cameos by Drake, Ludacris and Bollywood megastar Akshay Kumar.