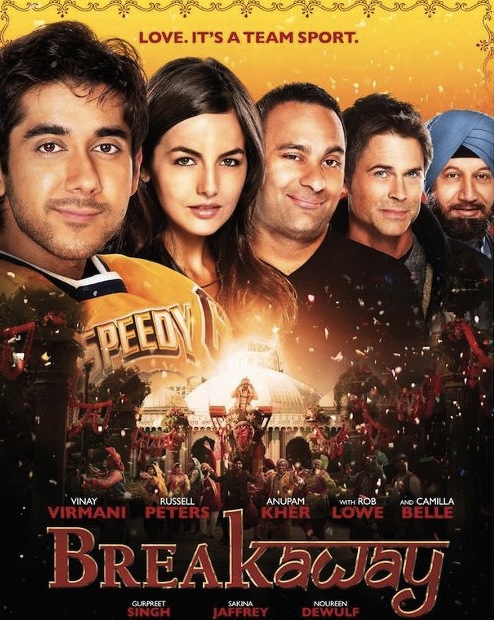 After seeing umpteen films about cricket from Lagaan to Iqbal to Victory, Speedy Singhs is the first Canadian-Hindi film we see about ice hockey. But this isn't your average sports based first with a dash of patriotism and individual storylines of triumph. Its a story about Rajveer Singh [Vinay Virmani] who is stuck between the expectations of following the family business and devotion enforced by his father [Anupam Kher of course] and his dream of greatness in ice hockey. But you can't play ice hockey without a team so while papa doesn't know, he forms his team, the Speedy Singhs, and tries to fulfil this desire.
Of course we have our dash of love with Camilla Belle playing the love interest Melissa, sister to coach Dan Winters, played by Rob Lowe that agrees to train the Speedy Singhs to victory. And maybe for a little fun, a dash of comedy supplied by Russell Peters who plays Sonu, the annoying cousin out to make Raj's life as uncomfortable as possible. However, where the film has reminisces of Bend It Like Beckham and the more recent Patiala House, it is certainly not in the same league as either of these films.
Yes, its Akshay Kumar's Hari Om Productions first international production jointly produced by Canadian based producer-actor-writer-singer-director Paul Gross. Yes, its directed by Robert Liebermen of "D3: the Mighty Ducks" fame. So the talent is definitely there for a comical drama/feel good entertainer. But somewhere along the lines, the makers of Speedy Singhs/Breakaway lost track. Instead, the film simply rehashes of certain aspects several films therefore losing any originality it possessed. Even the character of the stern father is something Anupam Kher played before and that too, to a T in Bend It Like Beckham. It does have a few giggle worthy point but amongst some of the more crass comical scenes and the downright rude ones, you tend to lose sight of them.
Performance-wise too, the film is quite mediocre with lead male Vinay Virmani who also co-wrote the film with Noel Baker, Jeffrey Schrechter and Matt Simonns, doing a decent job but with still a long way to go. Camilla Belle is just about ok but it wasn't the most detailed character in the film. Rob Lowe's character lost his chance to play in the major leagues because of his temper but more than anything, he is quite somber and bored. Russell Peters doesn't really do anything different from his own stage shows but he does induce a few giggles or two. The boys of the team simply do not have much depth to stand out. A shame since with better writing, they could have made things more interesting. Unfortunately, good comeback lines don't count.
Perhaps one of the few highlights would be the cinematography by Steve Danyluk and the soundtrack for the film by the Colombia Records India head and music composer, Sandeep Chowta, who has been missing from the forefront since Mukhbir. Yet it isn't enough to bring the fireworks. The song 'Shera Di Kaum' which features Drake, Ludacris and RDB [Akshay Kumar makes a cameo also] is quite catchy but is better heard than seen. 'Sansar' and 'Ne Aaja Ve' are just about ok. Editing by Susan Shipton cannot be blames since the content itself is lacklustre.
All in all, the light moments are just not enough for Speedy Singhs to score a goal.