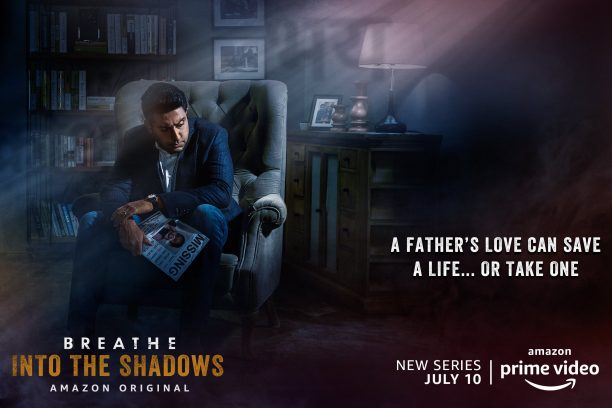 Breathe 2: Into The Shadows (Amazon Prime Video)
Starring Abbhishek Bachchan, Nithya Menon, Amit Sadh, Saiyami Kher
Directed by Mayank Sharma
In Mani Ratnam's Raavan Abhishek Bachchan played Raavan. In Breathe 2, Raavan plays Abhishek. There are mindgames based on the expression of each one of Raavan's ten heads, manoeuvring Abhishek's character through a series of clumsy capital crimes . So mindless are these mindgames that one is grateful Raavan had only 10 heads.If there were more, this series may have extended itself into some more episodes. And Breathe would have killed us all with the sheer lack of breathing space in the plot.
This is not to say that the storytelling is taut. Not at all! Loose-limbed and shaggy to the point of seeming lazy, the indolent tone of narration would have been excusable were it not so ridiculously self-important. It is hard to believe that it took four writers(Bhavani Iyer,Arshad Sayed,Mayank Sharma,Vikram Tuli) to put together something as slapdash and implausible as this.
It's not all bad though. Abhishek Bachchan infuses an incommensurate degree of honesty into his messed-up role. Breathe 2 opens with a teenage girl at a jagran in Delhi being kidnapped by a masked marauder. We are quickly introduced to our psychiatrist-hero Avinash Savarwal(Bachchan) and his chef-wife Abha. Together the Shrink and the Cook couple should have given us food for thought(chef, shrink…food for thought,get it?). But the writers have no patience to let relationships and feelings grow in the plot.
These are people in a hurry, though it's never clear where they are heading.
In Episode 1 itself the Savarval's cute little daughter Siya(Ivana Kaur) is kidnapped. Though Abhishek's Avinash has one big meltdown sequence in the first episode , I didn't feel the couple to be majorly traumatized. Quite often you get the feeling that the couple believes itself itself to be in a find-your-missing-child video game where the players(sure that their kidnapped child would be returned to them) go from task to task like obedient team players.
It's hard to take the progressively preposterous plot seriously. There is this entire slab of storytelling involving self-made lesbian writer whom Abha Savarwal seduces to murder. It is incredibly inept and far-fetched writing made worse by the fact that the actress playing the gay writer(Shruti Bapna) seems far more sensible than the script .
Saiyami Kher as a practical unrepentant hooker makes intermittent appearances reminding us that sex is a reality just out of the reach of the artificial characters of this series. These people belong to a soap opera that has long winded up its shooting. The happy hooker finally gets Abhishek into her bedroom and asks if he would like to eat something.I waited for a naughty answer.
"Agar aap banaake khilayengi," mumbles our saintly hero coyly reminding us rudely that by this point, the script has all but forgotten Avinash's chef wife. Food for thought, forgotten.
Shockingly enough ,the production values are way below what we see in the premium OTT products these days. The lighting is so poor in the night sequences that one can't tell the faces of the actors.
Fumbling and doddering all over with plot points that have you suppressing your giggles, Breathe 2 is an exercise in pointless selfimportant suspended suspense. If it wasn't for the credibility that Abhishek Bachchan brings to his scattered part, as too the gravity that Amit Sadh, Nithya Menon and some excellent supporting actors, bring to the creaky table Breathe 2 would collapse under the weight of its own selfimportance.