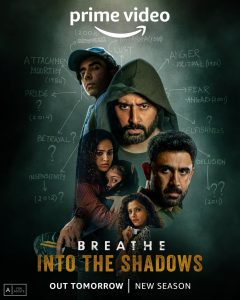 Breathe Into The Shadows(Amazon Prime)
Early on there is a cute sequence where Avinash Sabharwal, now in a mental asylum, is visited on his birthday by his wife and daughter. Since the daughter overstepped the cake while writing 'Happy Birthday' her mother suggests an extra cupcake with 'Papa' written on it.
I found that incident very significant to life and to life as shown in the second season of Breathe Into The Shadows : you sometimes lose out on something vital in life but there is a always a way of making up for it.
This season Abhishek's Avinash is on a murderous spree again , this time unmasked, Covid rules relaxed, killing his victims for grievances that range from a destroyed dream house to a botched up medical procedure. Everyone who has messed up Avinash gets the sharp end of the stick.
The elaborately planned murders are engrossing, especially one where Avinash is finally caught at the scene of a crime, taken to a provincial prison while in transit where he commits another murder. There is intelligent writing here, powered by a sense of anguished helplessness of a common man when the government machinery fails him.
Abhishek speaks very little. He lets his eyes do all the talking. The rage the helplessness and the anger all come through. Amit Sadh as the cop looking for the unhinged killer is also seething with anger. Amit's introductory sequence where he wallops a drunken lout for roughing up a musician, had me out of chair clapping.
Though with Amit Sadh, I felt he was raging for something more than his character's helplessness: for more space for his character, perhaps.
If the truth be told, every characters besides Abhishek's Avinash is dipped into sauce of darkness, shadowy in shape and ambiguous in deed. Early on Avinash's wife played by the lovely Nithya Menen who lights up the screen each time she is around, kills a man with cookies, and then goes about doing her normal motherly chores as if it is all part of the routine.
Like I said, the killings are killingly engrossing. My 'favourite'(sorry, it sounds like a flavour of ice cream) is the one where a blind ventriloquist(played with a gripping gusto by Mantra Mugdh) is taken for a train ride to hell by Avinash and his sidekick Victor.
Victor as played by Naveen Kasturia is part Joker, part Lucifer. He treats death as a joke. Maybe because life treated him as a joke.