This coming week the oldest and largest Indian film festival in North America will inundate the cultural fabric of New York City with award-winning, cutting-edge and entertaining films from the Indian subcontinent.

The New York Indian Film Festival, now in its fourteenth edition, is set to screen more than 40 films—features, short narratives and documentaries—from at least four South Asian countries. Organized by the Indo-American Arts Council, the week-long festival will mark the New York premiere screening of director-producer Anurag Kashyap's widely admired thriller Ugly. It will be the second time for Kashyap at the festival, whose film Gangs of Wasseypur was the closing night film two years ago.
This time the closing film is acclaimed Bengali auteur Aparna Sen's Goynar Baksho (The Jewelry Box), a film based on a novel of the same name. The centerpiece film is Malayalam director Geethu Mohandas' Liar's Dice – which won two National Film Awards recently, and was also premiered at the Sundance Film Festival. The festival will also be the official New York celebration of the twentieth anniversary of Gurinder Chadha's iconic debut Bhaji on the Beach, following several special screenings of the film across London in the last few months.
Aseem Chhabra, who's been the festival director for four years now, started as early as September to put together the list of films to be showcased this week. He talks to Shelly Walia about what it takes to get the show going:
What makes the New York Indian Film Festival special?
The festival started in response to the 9/11 attacks as one of and for the diaspora. It's the oldest and first [Indian film festival] in all cities in America. Many film festivals, which started later, learned from us and now collaborate with us. We have sent them films and they have sent us films.
The most exciting thing is the opportunity that it gives to people to network. I see young actors and filmmakers hanging around, and just walking up to, say, Anurag [Kashyap]. Anurag is very generous with his time because 10 to 15 years ago, he saw himself as a struggling filmmaker. He talks to them, reads their scripts and watches DVDs of their films. That's the kind of opportunity we give. It is all very informal.
So how do you find the films?
We start looking for films around September-October. We send out our announcements for securing films; this year we got some 250 submissions or more. Some directors send their films early on, but there is a bigger rush toward the end of the year, and a week before the last date of submission [February 1].
This year we are a committee of three people. I work alongside Aroon Shivdasani, executive director of Indo-American Arts Council, and Satish Kolluri who is a professor of Cinema Studies at Pace University. We spend a lot of time watching each and every film that is sent to us. Many people have spent their time making these films, and we want to do justice to each one of them. Having said that, all films cannot be screened. It is a subjective decision, but then I believe we have the experience of what works and what doesn't work. We are always surprised by some films that turn out to be real successes.
What about films that you may have liked but are not submitted?
There are some topnotch films we have to go after. I attend and watch films at other festivals, and I often land on good films by chance. Let me give you an example. I had seen Liar's Dice. It wasn't submitted to the New York Film Festival, but it was for the Silk Screen Film Festival in Pittsburgh, of which I am the programming director. It had come through a sales agent in Paris, and while I was trying to get the film for the Silk Screen Festival, I happened to be in Berlin.
I was waiting for the screening of a restored version of Satyajit Ray's Nayak, but it was delayed and I left the theater to get dinner. At an Asian food court, I spotted an Indian man, and he nodded at me simply because you don't see too many Indians in Berlin. We got talking, and then I found out that he was Alan McAlex, one of the producers of Liar's Dice. I immediately told him that I wanted his film both at the Silk Screen and New York Indian Film Festivals.
Two years ago, it was at Berlin Film Festival that I told Anurag that I wanted Gangs of Wasseypur for the closing night. I knew he was taking it to Cannes but he said yes. Another example is how I got Pakistani film Zinda Bhaag. I actually met the director on a plane to Goa for the film festival there. It was Pakistan's official entry for Oscars, and I wanted to show it here. Also, I met the director of Sri Lankan film With You, Without You at the Dharamshala International Film Festival. Both films will be screened at the New York Indian Film Festival.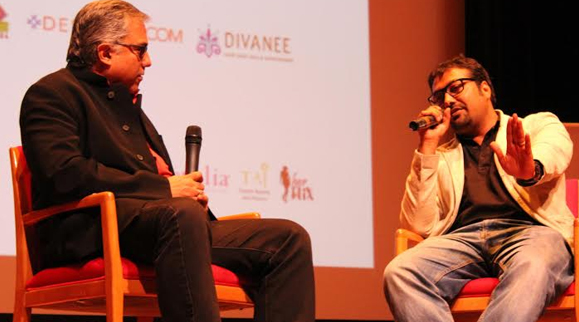 Aseem Chhabra (left) talks to director Anurag Kashyap after the screening of Gangs of Wasseypur at the festival in 2012. – Credit: NYIFF
What do you bring to the festival?
As a film critic and columnist, the festival is an interesting transition from just writing about films. I go to film festivals; I follow films; and I have good sense and experience now of what it takes to get films, and what kind of films work. On Twitter and Facebook, I am constantly telling people to go and watch this film, and not to watch that one. So the thrill of programing a festival is somewhat similar. If I find something exciting, I want my audience to watch it because I want to see their reaction when they come out and I want to share their experience.
The films we program are indie films or small art house ones, and these do not get theatrical distribution. We do not show any Bollywood films, except once or twice, but those have been more close to Bollywood than otherwise. I want to screen a film like Ugly because it will probably not get proper distribution here. Or like the Marathi film Fandry. When I watched it, I was absolutely floored. There may be a small circle in the Maharashtrian community in New Jersey that will get a DVD of the film and watch it. But the larger Manhattan audience will never watch it.
Our films at the festival sell out because there are enough people interested in this kind of cinema, and there are no opportunities to see them. There are many film festivals in New York, but screening of an Indian film is rare. So it almost becomes like our mission. The idea is to bring Indian films to New Yorkers of all shade and color; films that they will never get to see otherwise. It has become like a New York institution. We show rare independent gems of films that people wouldn't get to see otherwise.
Why did you decide to feature Gurinder Chadha and her films this year?
Twenty years ago, when I watched Bhaji on the Beach, I was blown away. It was way ahead of its time. She took an assortment of women actors belonging to different age groups and explored issues like domestic violence, rape, single motherhood and racism. It's done in a fun, humorous way, and that's what the festival is about. It makes space for such significant conversations to happen.
We are revisiting some of her early works, too. Sometime ago, Sakhi [anti-domestic violence organization] had a film festival, and it showed four of her documentaries she had made even before her debut film was released, as a journalist with BBC. I remembered loving them, and I was able to find a source to get the DVDs here in New York. The audience will watching something that they would have never been able to otherwise.
How has social media helped to spread the word about the festival?
It has to some extent. Our audience varies demographically. There are young, under 20s and 30s audience, who use Twitter and Facebook. But there are also over 50s audience who do not necessarily use social media.
While we use Facebook and Twitter to promote our festival as much as we can, we also depend on other means. Most people use emails, and we have a huge mailing list. We give away postcards and advertise in newspapers like India Abroad.
There are so many films. What does one watch and what does one miss?
You will never be able to see everything. But you will always be in for good surprises. You will at least watch one or two films that you will completely adore.
To find out more and access the screening schedule, check out:
http://www.iaac.us/nyiff2014/
Stay tuned to this space as we bring you all the highlights, red carpet premieres, reviews, interviews and more from the New York Indian Film Festival.