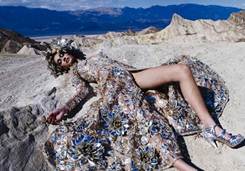 The late fashion connoisseur Isabella Blow once referred the globally renowned tour de force photographer Ram Shergill as "creative, amazing, and brilliant. All at once!" But it doesn't stop there.
From the 3rd to the 5th of September 2012, Sotheby's will unveil an exclusive showcase celebrating the work of Ram Shergill at the India Fantastique! exhibition. The landmark fashion design portraits on display have been taken from a lavish two volume publication marking India's leading couturiers Abu Jani and Sandeep Khosla's 25 year partnership, as captured exquisitely by Ram Shergill.
Sotheby's is an institution that is synonymous with housing the finest masterpieces available worldwide. To be exhibited in Sotheby's is the epitome of accomplishment for any artist, and with distinguished personalities such as Dame Judi Dench and screen legend Amitabh Bachchan attending an exclusive launch event for India Fantastique on the 5th September, Ram Shergill and his iconic work is the focus of a high-profile night that is set to stun the array of celebrity and influential guests in attendance.
With an era of experience to his credit, this event marks yet another milestone in Ram Shergill's illustrious career – one monitored by the most influential fashion icons to date. Having exhibited his work at the institutional Victoria and Albert Museum as well as the Whitechapel Art Gallery in London, Ram Shergill is widely recognised for his masterly ability to bridge the gap between fine art and fashion.
With reference to the launch of India Fantistique! In London, Ram Shergill commented: "Photographing for the Abu Sandeep India Fantastique book has been a fantastical journey where I have been able to photograph some of the world's most iconic faces, been to exotic far flung places and have experienced the ultimate in luxury; for me their work is unique and above all it was a stunning experience. No one shoot is ever the same. A coffee table book is an opportunity for a photographer to give birth to an idea and then carry it through to the end, and it has been great to collaborate with Abu and Sandeep in this pioneering venture.""
Having studied Visual Communications at Wolverhampton University, Ram Shergill initiated his career in photography with a project in collaboration with milliner Philip Treacy, now the epitome of a fashion forward hat. There on, he got acquainted with the reputable Isabella Blow, who, with her eye for distinguishing fashionable talent, instantly recognised Ram Shergill's phenomenal work. Following this, it has been an upward spiral for Ram Shergill, with his art leading him into the world of fashion.
Starting with projects for Vivienne Westwood, Ram Shergill was regularly photographing the most celebrated Hollywood and Bollywood stars, such as the Harry Potter cast, and even the most distinguished models in the world, such as Naomi Campbell. He has photographed Royal heads of state, as well as attributes such as The Royal Ballet. Further still, he has photographed musical icons, for example the late Amy Winehouse and more recently Will.I.Am and Cheryl Cole jointly for a magazine cover, and adored football stars such as Andrei Arshavin. Boasting an endless list of celebrities whose photos have been symbolic of the achievements in his career, Ram Shergill has also participated in judicial appearances on shows such as Britain's Next Top Model, and campaigns for international magazines such as the Vogue and Tatler.
In light of this career that has been nothing short of exemplary, Ram Shergill was ready to instill his foresight into a substantial book which would stand as yet another portfolio of his work. His visions have gained him acknowledgement from the likes of the pioneering Alexander McQueen, and will continue to do so at Sotheby's, where a wider sphere of people will be able to commemorate his latest endeavour.