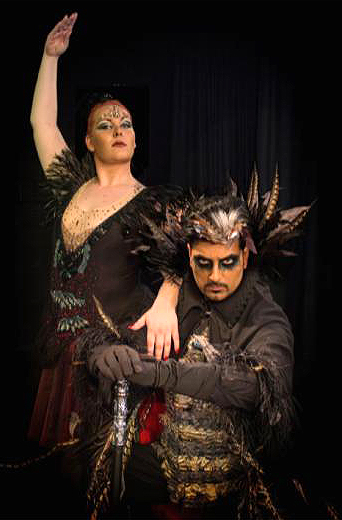 Trained dancer and choreographer Raj Parmar will be showcasing his expert dance skills across the globe, as the successful Channel 4 documentary Big Ballet is set to air on the American arts network, Ovation.
The multi-talented choreographer is dancing onto screens in the USA, after he took his leave from Bollywood dancing to try his hand at ballet for the show. Impressively, beating 500 hopefuls for a much-coveted spot in the documentary, Raj ultimately landed one of the lead roles as the heinous villain Baron Von Rothbart in the much-loved Swan Lake. In a troupe of 18 plus-size dancers, Raj stands out as one of the two male dancers and the only South Asian in the group.
The dance expert displays his versatility in the Big Ballet documentary, something which is also apparent in his professional career. Having trained as a radio presenter, makeup artist and model, Raj also established his own dance academy Spice Entertainment in 1999. His unique choreography gained a great deal of attention, resulting in choreography jobs for several popular British Asian music videos, as well as MTV. Raj is no stranger to appearing onscreen, as he has previously appeared in major films such as Casino Royale and Mischief Night.
After the reality show garnered much success in the UK, Ovation has picked up the series for a brand new audience in the US! The three-part series features a plus size dance troupe training under legendary dancer Wayne Sleep, who is famed for being the shortest performer to make his debut on the Royal Ballet stage. Aiming to break the taboo of size in the world of ballet, the group brings their version of the iconic Swan Lake to life in a final performance in front of leading individuals of the ballet industry.
Speaking on his involvement in the show, Raj says, "We worked so hard for our final performance and received some great feedback. I enjoyed every minute of training and filming. I know the British audience enjoyed watching it, so I'm very excited for Big Ballet to air in the US! I think taking Big Ballet to the US is a great way for the American audience to appreciate our talents! Coming from a Bollywood dance background, ballet was a massive change but I believe I really got to grips with the fundamental moves and feel proud of what I've achieved during my time on the show."
The three-part documentary aired on Channel 4 earlier this year, and will be shown on Ovation on 28th May.