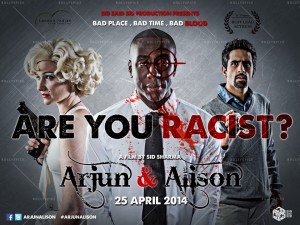 Arjun & Alison director Sidharth Sharma expresses his delight at a positive opening this week: "We have been working hard to spread the message of this movie and the subject it tackles of race relations in the UK. I'm thrilled to see the British public enjoying the film in the cinemas during the last few days. It's great to see support for independent film in what is a hugely competitive and challenging industry. With a second week run in the cinemas, I am looking forward to finding out more reaction from the public at all of our future screenings including this Friday 2nd May at Cineworld Wandsworth."
Public demand to see Arjun & Alison has been strong, with the film attaining a second week in selected screens, adding the screen at Cineworld Wandsworth.
The film's distributors have also signed an exclusive online deal which will see it soon be available for all to watch via a special Video On Demand (VOD) streaming service, allowing anyone to watch it on their laptop, phone or tablet. The service will be made available soon after Director Sid Sharma returns from the Cannes Film Festival where he has been invited as a special guest.