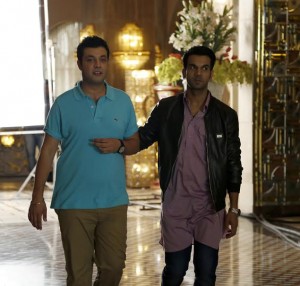 One of the most awaited films of the year Dolly Ki Doli is packed with a lot of surprises in store for the audiences. It is for the first time that Sonam Kapoor will be playing the role of a con girl, and the audiences are gaga over her new avatar already as seen in the quirky promos!
What we recently hear is that the Rajkummar Rao and Varun Sharma got along with each other like house on fire. There was never a dull moment when they were around.
A source close to the team said, "Pulkit and Varun know each other since a long time, but Rajkummar also got along with them from the very 1st day. In fact Rajkummar and Varun bonded like they have known each other since many years and when they used to be around everyone had to be careful to not fall for anything they said as they would keep pulling someone or the others leg on the sets. They would also help each other in their dialogues and scenes."
Though in the film they are competing with each other for Sonam, off screen they were stuck at the hip with each other.
Well, bromances are becoming too popular these days in Bollywood, aren't they?
Dolly Ki Doli will hit the screens on 23rd January 2015!