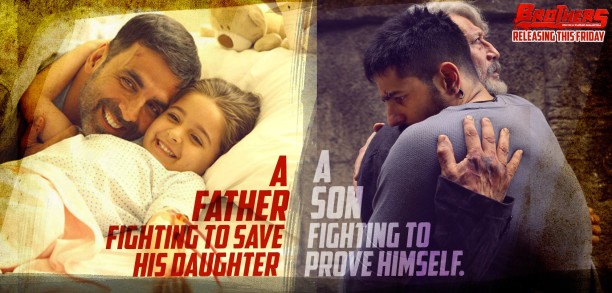 Brothers has stormed the international box office this weekend opening to great acclaim from critics, celebrities and audiences alike.
The Akshay Kumar, Sidharth Malhotra and Jacqueline Fernandez starrer Brothers, which released globally on 14th August, has taken an impressive $11.4 Million in India to become the second highest opening for a Bollywood film this year and $2.4mn internationally.
Brothers had the highest opening for an Indian film in Pakistan with collections of $367,000 and the second highest opening this year in the Middle East with $960,000. In the UK the film recorded the third highest Friday opening for an Indian film in 2015 with £140,000.
Akshay Kumar started his journey in Indian cinema playing a martial artist, and now in the month that he celebrates his 25 years in the industry, he delivers his biggest film release opening with Brothers, where he plays the role of a mixed martial artist, hence going full circle in his career.
The opening weekend of $11.4 million at the India box office is the highest opening weekend in India for Akshay Kumar's last four films and the first day collection marks Akshay Kumar's biggest ever opening day in his career.
Here's what some of the critics have been saying about the film and star performances:
– The performances by the lead stars are stellar – DNA India
– A must watch for every action film enthusiast – Scoopwhoop.com
– The drama in the flights is power-packed. The thrill is insurmountable – Pinkvilla.com
– 'Brothers' remake of 'Warrior' offers a beefier version aimed at India market – Los Angeles Times
Brothers has also been a craze amongst some of the B-town celebrities who caught the film prior to it's opening. They lauded the actors performance and spilled their admiration for the film over social media. Shah Rukh Khan tweeted his wishes of good luck to Karan Johar and the team. Hrithik Roshan exclaimed Brothers as an "outstanding" film and sent out his love to the team. Priyanka Chopra, Sonakshi Sinha and other big celebrities tweeted out some warm and positive vibes to the Brothers team as well.
Check out some celebrity tweets about the movie!
– All the best @karanjohar wish u the best for Brothers and the whole team — Shah Rukh Khan (@iamsrk) August 14, 2015
– #brothers is outstanding!! Bright light n love 2 my friends @karanjohar @karanmalhotra21 @akshaykumar @Asli_Jacqueline, Sid n dear ekta! # — Hrithik Roshan (@iHrithik) August 13, 2015
– Al the best @karanmalhotra21 for brothers to u n your whole team! It looks great! Love always! — Priyanka Chopra (@priyankachopra) August 14, 2015
– Saw "Brothers" last night, very dramatic and the best sports action till date in a Hindi film. Super direction, Performances, editing etc — Arshad Warsi (@ArshadWarsi) August 14, 2015
– Brothers!!! What an emotional family saga interlaced with the exciting world of MMA! @akshaykumar and @S1dharthM look like REAL bros — Sonakshi Sinha (@sonakshisinha) August 14, 2015
– A fabulous film @karanmalhotra21 @karanjohar take a bow #Brothers — Twinkle Khanna (@mrsfunnybones) August 13, 2015
– Saw #Brothers and the second half had me spell bound-both the brothers @akshaykumar @S1dharthM are absolutely fantastic — Twinkle Khanna (@mrsfunnybones) August 13, 2015
The Karan Johar production is a hard-hitting action-packed drama that revolves around the struggles of two brothers David and Monty Fernandes, who find themselves facing off against each other in a grim battle for survival within the brutal, high-stakes world of Mixed Martial Arts (MMA) fighting.
Directed by trailblazer Karan Malhotra (Agneepath), known for extracting inspiring performances from his actors and sending his audiences on an emotional, cathartic journey, Brothers has been produced by renowned filmmaker Karan Johar, under his Dharma Productions banner, along with Lionsgate Films and Endemol India. The film is released by Fox Star Studios worldwide.
Brothers is a blend of drama and high octane action and is creating a buzz both onscreen and off-screen for all the right reasons. Out in cinemas now.