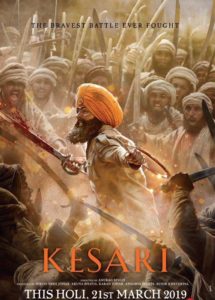 Always up for a challenge when it come to roles and action Akshay Kumar went through the gruelling journey during the shooting his upcoming period drama, Kesari. Kesari is an unbelievable true story based on the Battle of Saragarhi, 1897. Touted as one of the bravest battles ever fought, 21 courageous Sikhs fought 10,000 invaders. These saffron clad warriors fought valiantly against all odds and changed the meaning of bravery.
In a very special making of video, titled 'Preparing For Battle Part 1', the actor takes us inside the film and the challenges he faced making Kesari.
The making video is about Akshay Kumar shooting the film, under intense circumstances with his custom attire and the transformation into Havildar Ishar Singh. It captures the sheer hard work Akshay Kumar and the team has put into Kesari, the training they underwent to be able to make the Battle of Saragarhi look ethical and as real as possible.
Akshay Kumar said in the video: "I had the best time doing action for Kesari because they were raw. The very premise of the film is something that swells my chest with pride. There are two major action sequences the film has. Spiti was a beautiful place but it had it own challenges – high altitude and low oxygen. The action choreography was quite difficult. Also, to recreate a battle that took place in 1897, we had to learn the traditional battle style then.
"Kesari is based on one epic battle of Sargarhi which was one of the most heroic battles seen in the history. It is a story about the courage of 21 Sikh soldiers who fought against 10000 invaders to defend their honour. The film also salutes the never-give-up attitude the Sikhs have," the actor added.
Director Anurag Singh also said, "The most interesting scene to choreograph was the climax when Akshay sir takes the sword and fights. The guys are storming into the fort and he is standing there alone… that was something."
About the BTS video Akshay said, "Always the happiest when I'm in action and #Kesari kept me more than active! Watch the making here."
Along with Akshay Kumar, Kesari, also stars Parineeti Chopra and was directed by Anurag Singh. Kesari is in theatres 21st March, 2019. Produced by Hiroo Yash Johar, Aruna Bhatia, Karan Johar, Apoorva Mehta, Sunir Kheterpal and Co-Produced by Amar Butala. Written by Girish Kohli and Anurag Singh.
.