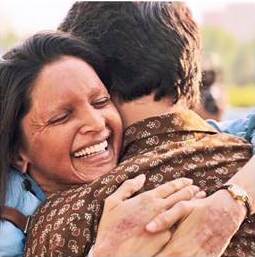 The first song to Meghna Gulzar's Chhapaak starring Deepika Padukone has just been released!
Titled 'Nok Jhok', it features stars Deepika Padukone and Vikrant Massey. The song talks about how small fights can leave two people with a smile. The lyrics beautifully describe the condition of Malti and Amol in 'Nok Jhok'.
In the romantic video, the actors look cute as romance brews between them in the song. The lyrics of the song have been penned by Gulzar, the melodious track has been sung by Siddharth Mahadevan and the music has been composed by Shankar, Ehsaan and Loy.
We also have a special behind the scenes look in to the creation of this track from it's inception!

Chhapaak is a film that looks at Acid violence through the lens of Acid survivor Laxmi Agarwal's story. As Malti in the film, she comes from a humble, unprivileged background. Malti was attacked with acid on a street in New Delhi, in 2005. Her assailant was a man twice her age, whose advances Malti had clearly declined. Through Malti's story, the film makes an attempt to understand the on-ground consequences of surviving an acid attack in India, the medico-legal social state of affairs that transpire after the acid has been hurled and the face is irreparably burnt.
Overall, Chhapaak is a story of triumph… of the unquashable human spirit, set to release on January 10th.