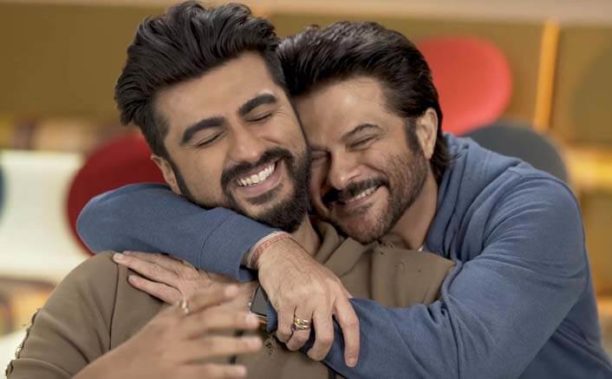 We have a very fun Mubarakan behind the scenes video. This time it is all about the Chacha-Bhatija Jodi as real life uncle and nephew Anil Kapoor and Arjun Kapoor share what it was like to work together on Anees Bazmee's Mubarakan. This is the first time the duo have been in a film together.
"Arjun really likes Anil. He loves and respects him. They were super together," says Anees Bazmee.
Anil reveals it was his idea to get Arjun on board, "Anees was on board then I was confident that I can call up my nephew Arjun."
During the video, we see Anil pulling Arjun's leg and vice-versa. Arjun agrees that now the two share a friend-like bond, which would not have been possible if they weren't working on this film. Talking about his experience of working with Anil Kapoor, the young Kapoor said, "It was amazing. Now, we share the bond friendship, mentor. There is a casualness between us two, which without this film wouldn't have happened. I am happy and proud that I have been able to hold my own, perform with him."
​When Arjun was speaking to the crew about Mubarakan, Anil comes from behind and holds him tight. While this is the cutest moment the two shared on camera, Anil whispers in Arjun's ears, "Say something nice about me", which makes Arjun burst in laughter.
Watch the Making of Chacha-Bhatija to find out more about their so cute bromance.

The film is all set to take the audience on a comic trip, when Mubarakan releases in cinemas on 28th July 2017.