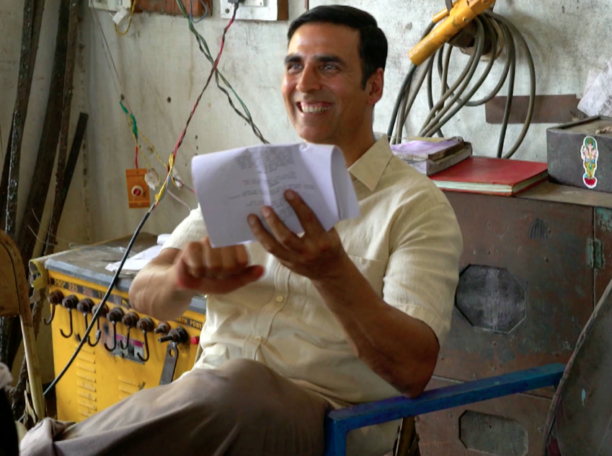 Coming up on the 25th January is the social film Padman, starring Akshay Kumar (Toilet: Ek Prem Katha) who is joined by critically acclaimed actresses Sonam Kapoor (Neerja) and Radhika Apte (Kabali).
Produced by Aruna Bhatia, Mrs Funnybones Movies, Sony Pictures Entertainment, India, Kriarj Entertainment, Cape of Good Films and Hope Productions, Pad Man is written and directed by ad-man turned film-man R Balki (Paa).
Billed as the most progressive family entertainer yet, Pad Man is a fictionalized account of Padmashri Arunachalam Muruganatham, the man who revolutionized the manufacture of the low cost sanitary napkin in India. Lakshmi is a newly married, humble welder from a rural village in the heart of India. Lakshmi's incredible journey starts when he is shocked to discover that his wife uses an unhygienic cloth during her periods. Unable to afford a branded pad, he decides to make a sanitary pad himself. After several attempts, his irate wife refuses to be a part of his experiments. Lakshmi's love and concern for his wife, his determination to make the pad, leads him into situations that cause so much shock and embarrassment that it compels his wife to leave him and his village to banish him.
Lakshmi doesn't give up. His simplicity of thought, his resilience, his focus and his complete disregard for convention finally leads him to his destiny. A machine that can make a pad! The revolution that follows…from spreading menstrual hygiene, to empowering women, to starting mini cooperatives, to a vision of making India a 100% Pad using country, to accolades, to international glory and to a final resolution of his personal life, makes the rest of the feature "PAD MAN". His journey to make India a 100% pad using country goes on…even today.
We have a very cool behind the scenes video during the making of Padman! Watch what happened on set as well as hear from producer Twinkle Khanna, star Akshay Kumar, Radhika Apte as well as composer Amit Trivedi!