Coming on December 21st is the Anand L Rai directed film Zero, which stars Shah Rukh Khan, Katrina Kaif and Anushka Sharma.
The film tells the story of Baaua, a man who maybe little in stature but he is grand in attitude and in his dreams. Born to a wealthy family and raised in an environment of affluence and indulgence, Bauua Singh (Shah Rukh Khan) was never failed by Meerut or its people. But when he meets two women (Katrina Kaif and Anushka Sharma), his experiences with these women take him on a journey to complete his 'incompleteness' and broaden his horizons to find a purpose he never knew he had.
Needless to say, with that cast and that intriguing story, fans are in a bolly-tizzy to see this come to life on-screen.
The music is always an integral part of Hindi films and the first track we heard from Zero was the beautiful Mere Naam Tu, composed by Ajay Atul and sung perfectly by Abhay Jodhpurkar.

Fans loved the song and video, it sits now at 34 million views.
Now we have a very special behind the scenes look into the making of this song full of love and the brilliant video, which as you can see was choreographed and directed by Remo D'Souza.
We also have to share this because just awwww…Shah Rukh also Tweeted this special picture from the shoot saying,
"Of all the things I have done for Mere Naam Tu…this is the sweetest. My daughter teaching me to get the lyrics right on the sets."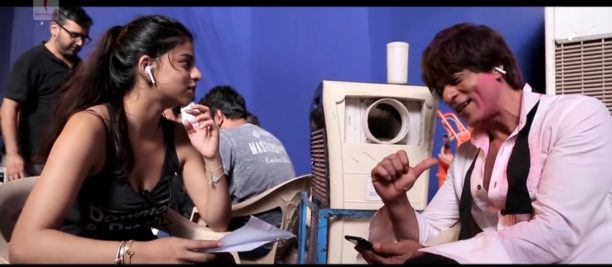 Now we are off to go play the video again! Zero hits theaters on December 21st!